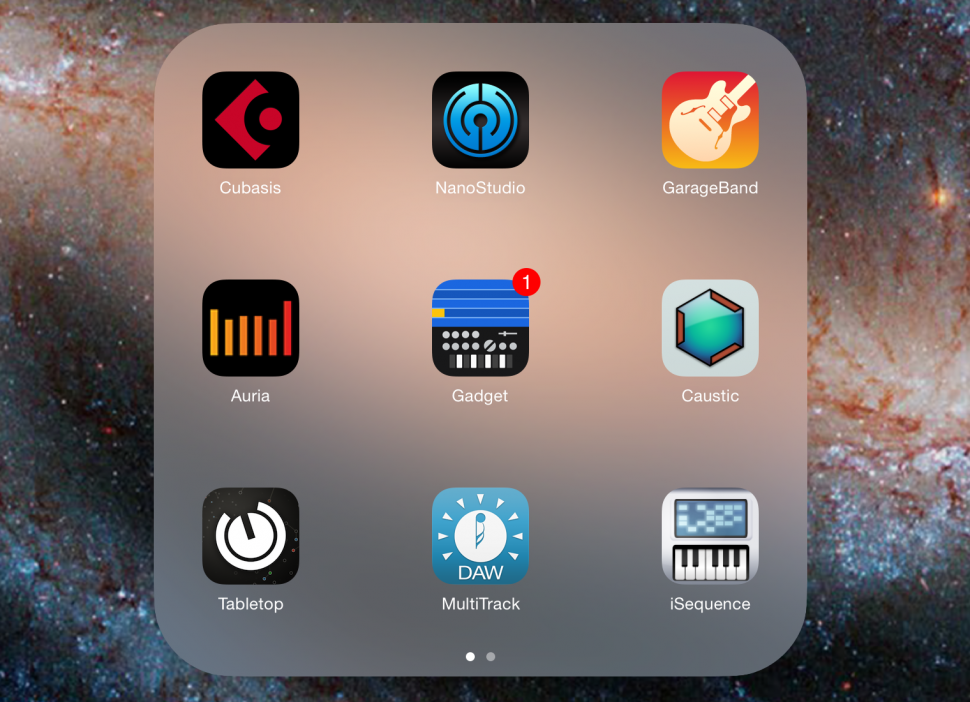 Apple has, since its founding, remained a mainstay for artists and content creators. Even today, Apple frequently includes musical performances at their product launches and they remain committed to artists and content creators. There is no denying that the iPad has been revolutionary in putting the power of mobile music making tools into the hands of musicians. Once you get past the initial cost of the hardware, these software options are a fraction of the price of desktop equivalents, yet are of similar quality.
When it comes to music making there are hundreds of high quality music creation apps available for iOS. This post doesn't try to do them all justice, but instead focus on the cream of the crop. I've focused primarily on the iPad as a stand-alone device since its size make it quite easy to work with music software and virtual keyboards on the move.
1. Audiobus – $4.99 / £3.99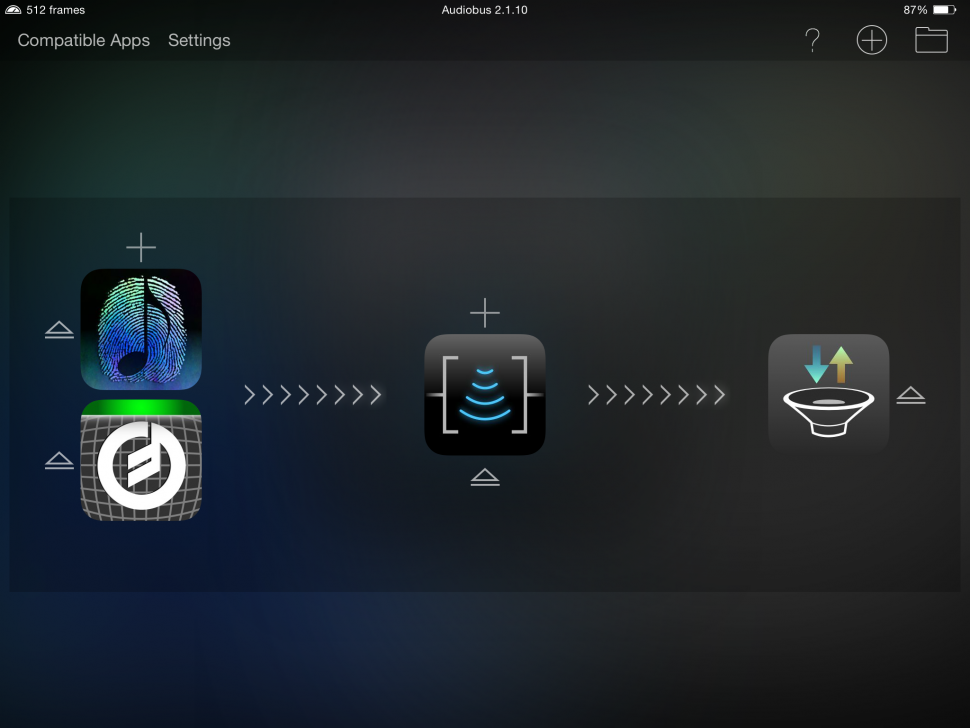 Music making on the iPad changed dramatically a few years ago when the Audiobus was launched. Prior to that, you couldn't really combine sounds from multiple synths without a lot of cumbersome copying and pasting. All of that changed with the Audiobus standard. Even Apple added support for it to Garageband. Audiobus is not an app that makes noise, but it lets you combine multiple apps together and pass the sounds from source apps through optional effects apps and ultimately recording into target apps. The latest version of Audiobus also supports "state saving" where apps hooked into it will "remember" their settings when you reopen them. Most major apps (and all of the ones on this list) support Audiobus for routing audio in iOS.
It is worth noting that since the release of Audiobus, Apple also came out with Inter app audio (IAA) which supports both audio sharing and MIDI sharing of apps. Together with Audiobus, this is how most apps are combined when making more complete music compositions on the iPad.
2. Cubasis – $49.99 / £34.99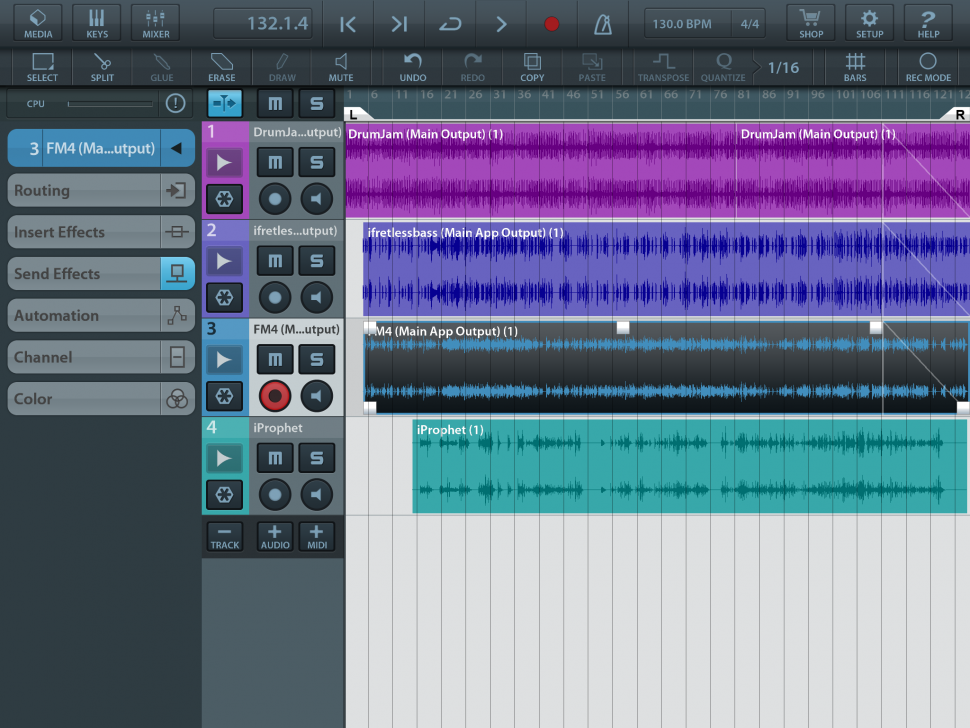 Cubasis is complete Digital Audio Workstation (DAW) by Steinberg, maker of the Desktop software, Cubase. It has full audio file support, concurrent track recording, MIDI support, full automation, works as both a source and target in Audiobus, supports IAA plugins and also includes a decent built-in synthesizer, sampled sounds and built-in effects. It's pretty expensive for an iPad app, but many folk use this as their go-to mobile DAW.
3. Auria – $49.99 / £34.99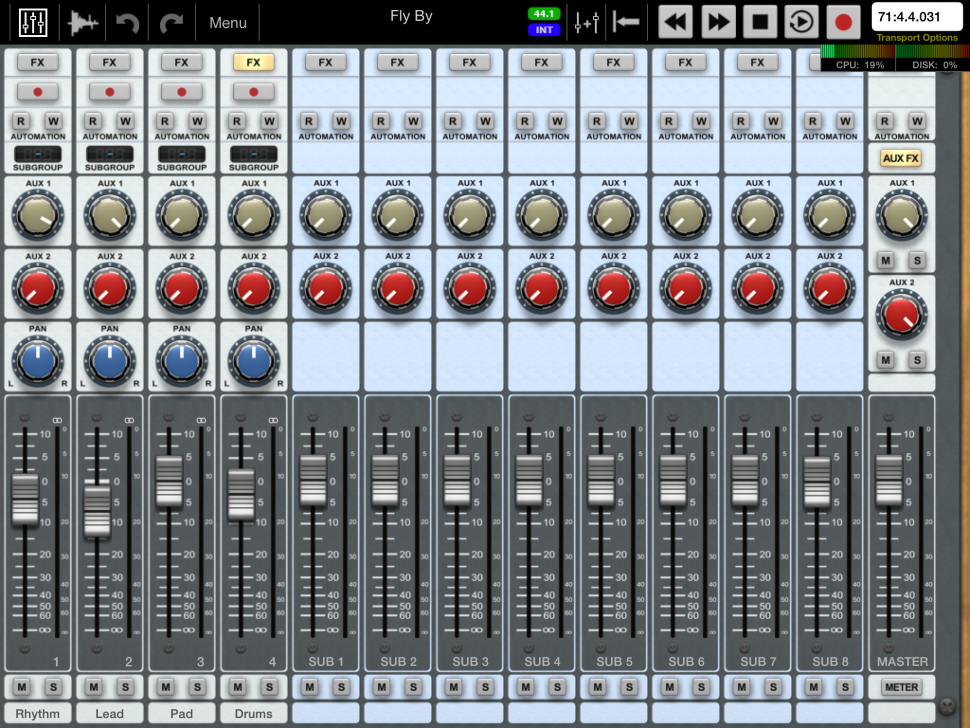 While Cubasis and Garageband have their roots in desktop products, Auria was born and built for the iPad and lined up some very heavy hitters in plug-ins such as FabFilter, PSP and others. The current version is strictly for Audio files and fully supports concurrent track recording, automation, IAA, Audiobus as both sources and targets. Currently, Auria does not have any built-in instruments, but these features are coming… In terms of power, it is one of the best on the iPad and if you are going to do full creation and mixing on the iPad. Like Cubasis, Auria is an expensive iPad app, with plug-ins ramping up the cost.
4. Korg Gadget – $39.99 / £26.99
Another major name that has made it into the iPad realm is Korg. They have many apps out for the iPad and Gadget is their DAW. It includes many built-in synthesizers featuring some of the best Korg sounds from over the years as well as some modern additions such as a Dubstep Bass app. There are tons of effects built into the synths themselves, but very few available in the mixer. Gadget can be used as a source only with Audiobus. MIDI editing is excellent. It can be hard getting other sounds into it. Despite this, there is a rich set of synths and samplers to choose from but you cannot bring in other synths via Audiobus or IAA. Gadget provides many in-app purchases and if you also have Korg Module (their high quality sample app), you can add its instruments to your mixes. It also is worth noting that Gadget requires iOS 8 and a fairly recent iPad.
5. Korg iMS-20 – $29.99 / £22.99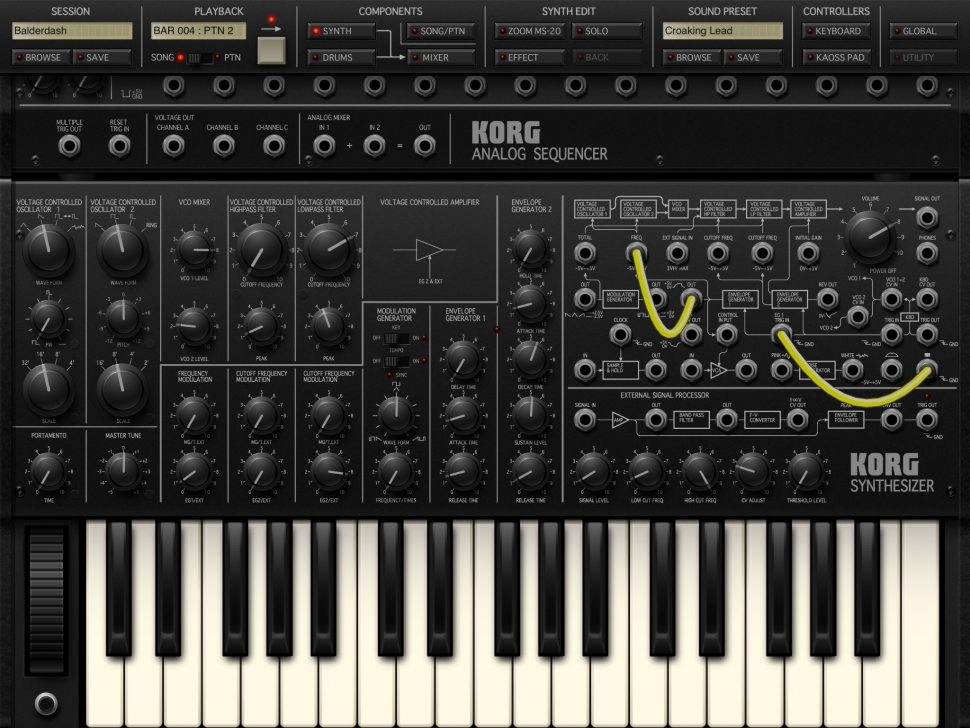 The MS-20 synth is a famous synth of the 70s (the "poor-man's MiniMoog). Korg ported their desktop virtual instrument to the iPad with great success – the sound is very close to the original hardware version. Along with the synth, they include a vintage style sequencer and a pair of Kaoss pads. This app does support Audiobus and IAA as a source.
6. Arturia iMini – $9.99 / £7.99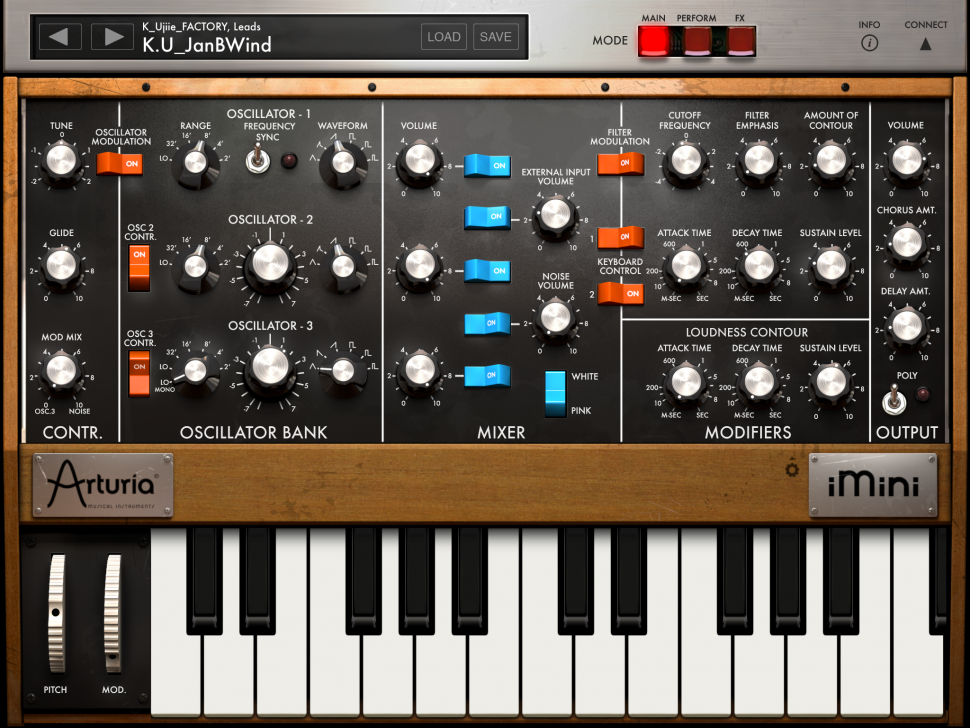 Speaking of the MiniMoog, Arturia, a well-known provider of virtual synths on the desktop has a few apps for the iPad. The pick of the crop is the iconic iMini. There are many synths on the iPad that can sound like a Moog, but this app also gives you the full interface of the MiniMoog. Like their desktop offering, Arturia has enhanced this synth to support polyphony if you want it and has added some nice X/Y pads, and a few effects. It supports both Audiobus and IAA as a source.
7. iVCS 3 – $14.99 / £10.99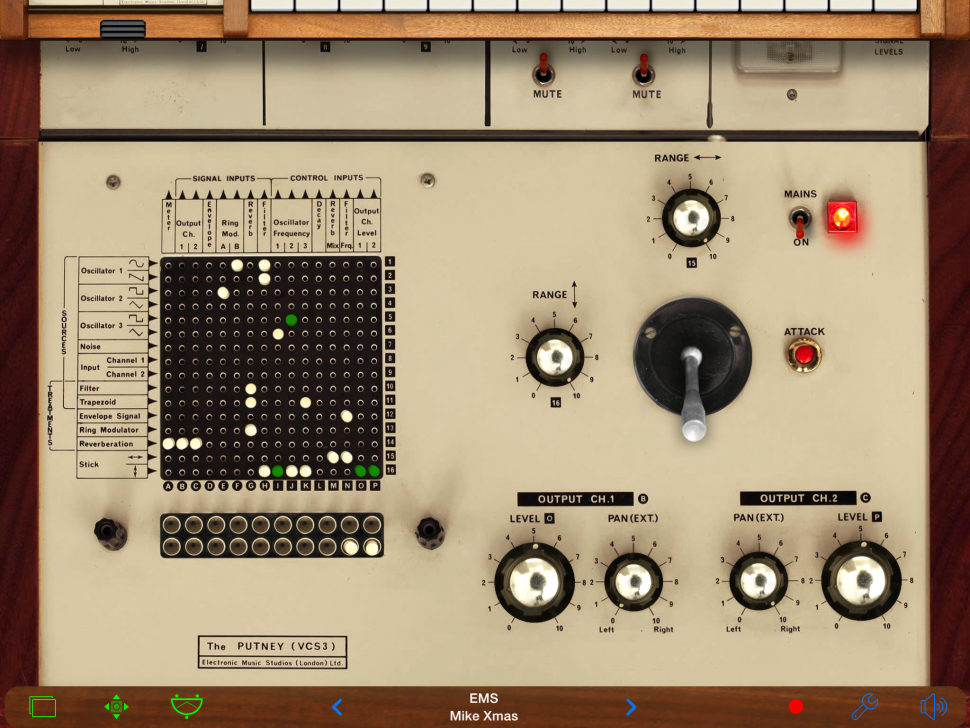 The iVCS 3 is a stunning emulation. Originally made by EMS and famously used by Brian Eno, Pink Floyd and The Who. Apesoft have faithfully reproduced every knob and joystick as well as the unique pin matrix for connecting the modules together. Actual VCS3 patches will work on this app as well. They have also slightly improved the original with an additional LFO (low frequency oscillator) available for your use and a basic sequencer and keyboard. Like most of the options here, iVCS3 works both with Audiobus and IAA.
8. Animoog – $29.99 / £22.99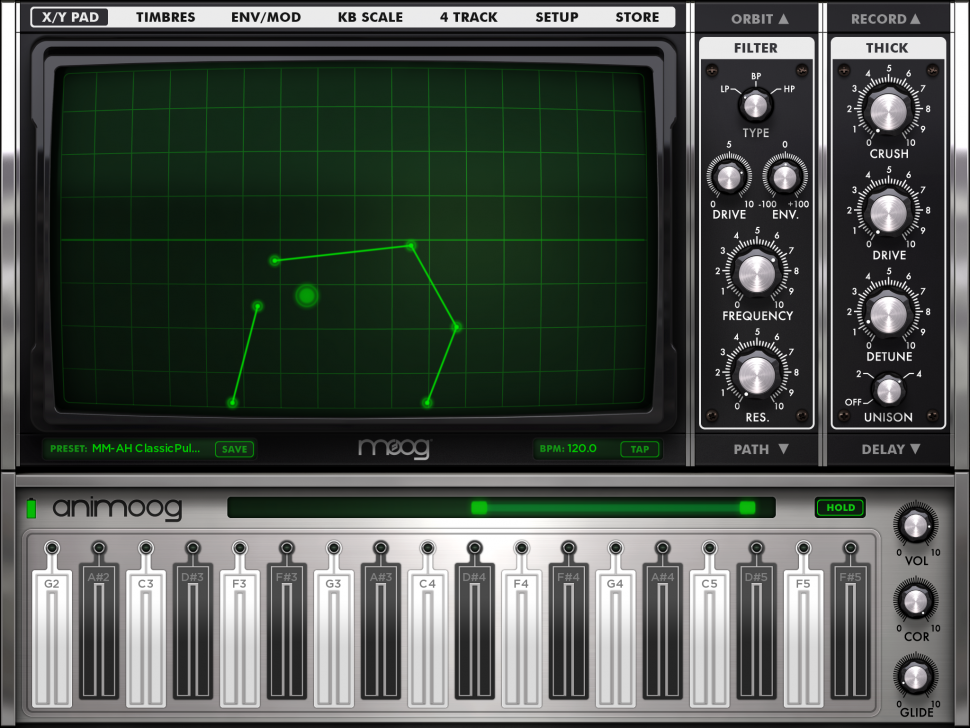 The current Moog company has also jumped into the app market with a new synth called Animoog. Rather than emulate their classic synthesizers, they have created a wave table digital synth featuring wav samples from many of their classic modular and compact synths. They also offer several libraries of sound waves from famous patch designers and even one featuring Grateful Dead samples. The touch interface on this synth is amazing and your fingers moving vertically or horizontally can modulate almost anything related to the sound. This too works in Audiobus and IAA.
9. Waldorf Nave – $19.99 / £14.99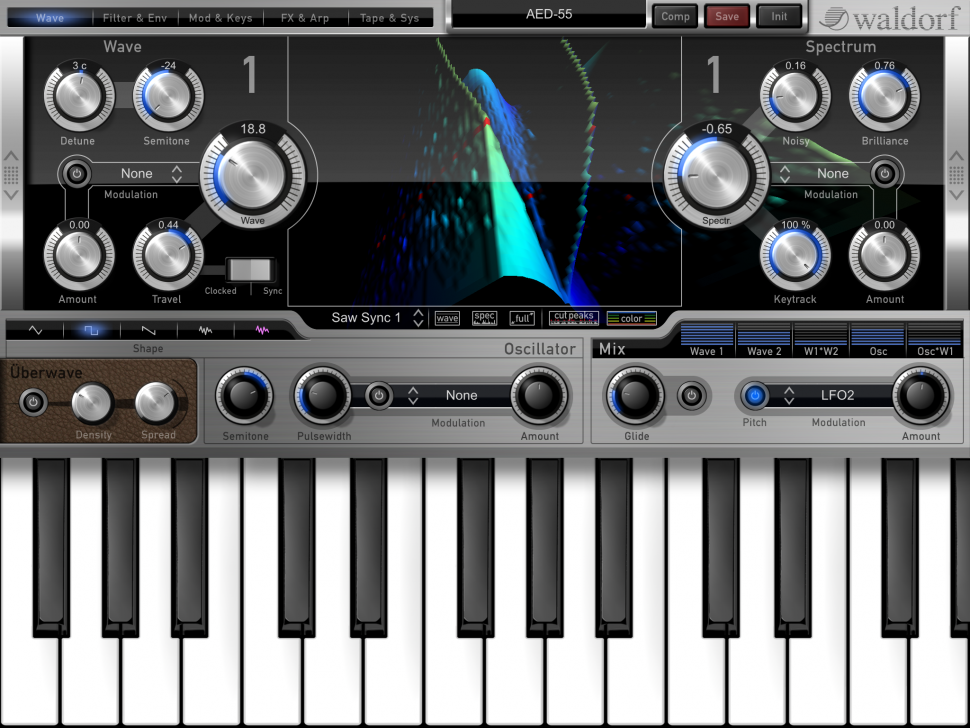 Another synth manufacturer, Waldorf, also came out with a very flexible and unique synthesizer app called Nave. Nave is not an emulation of anything but is a flexible morphable wavetable synthesizer with unique touch controls. Nave provides 2 separate wavetables that you can combine and blend along with traditional waveforms. You can visually manipulate and morph they wavetables and filters in real-time with layered sounds. This has been so successful on the iPad that Waldorf is porting the app to the desktop.
10. Z3TA+ – $19.99 / £14.99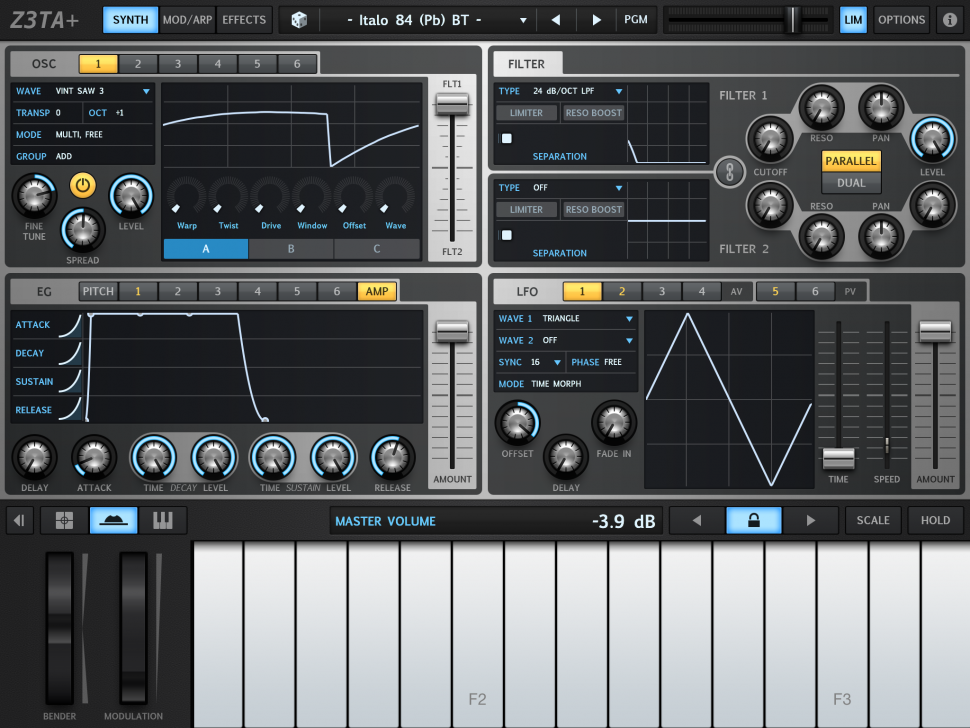 Z3TA+ is an example of a desktop synthesizer moving almost unchanged to the iOS platform. For years, Cakewalk's Z3TA+ has been a mainstay for many electronic musicians. This is a broad purpose synthesizer providing many waveforms from traditional sines, saws to more esoteric samples as sound sources. It has a dizzying number of modulators, envelopes, filters and sequences to make morph and mangle any sound you can dream up. The iOS version has everything the desktop provides with a much more touchable interface.
11. Garageband – FREE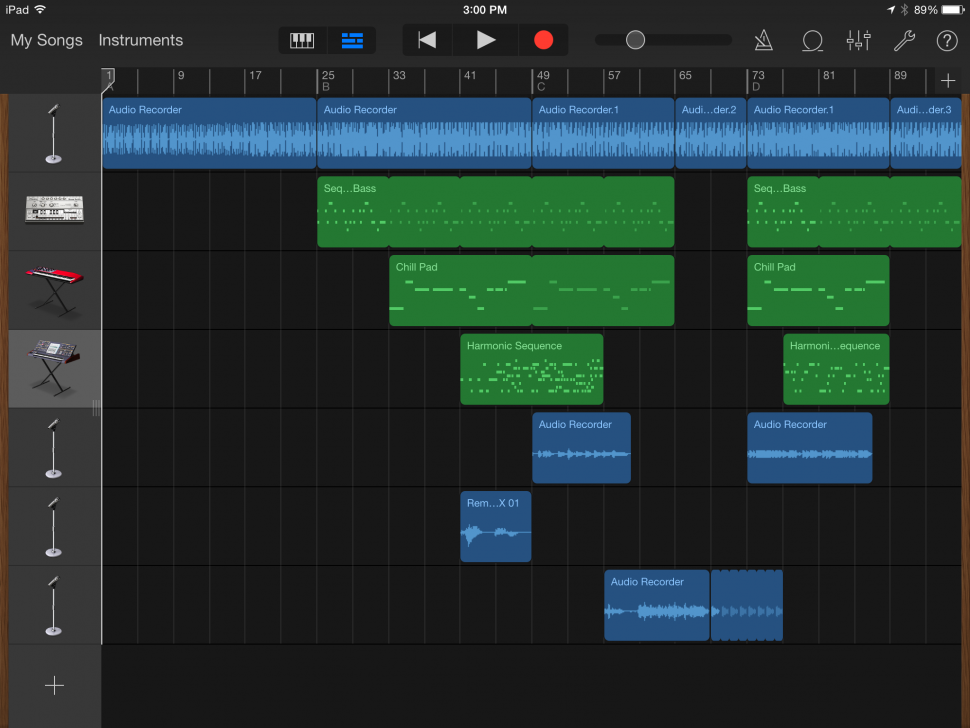 Before investing in the above apps, don't overlook Garageband for the iPad. This is a very capable DAW with a ton of built in instruments, virtual guitars, string sections and synths. It is a tremendous tool to get started with and supports IAA and Audiobus (as a target only), microphone recording, guitar amp simulation, sampling, MIDI etc. Its also extremely useful if you want to finish off your piece on a Mac. As you can move your project directly into Garageband for the Mac or Logic X.
iPad Music Making, What Would You Add?
What apps are you using, which you think should be in this top 11?