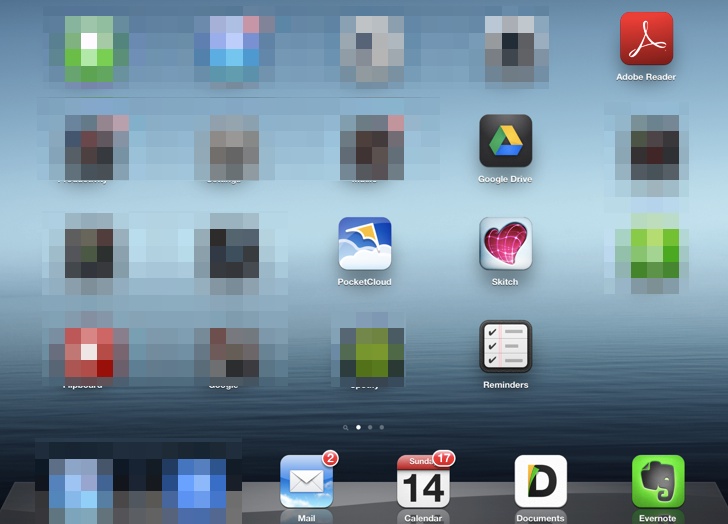 If you use a tablet like an iPad or Google Nexus 7 whilst out an about I'm sure you've built up a list of apps that you find essential for your day to day work. Tablets are allow you to almost do everything you can on a laptop without having to worry so much about battery life or the weight of carrying around a computer and charger. Below is my list of essential apps and are the first ones I either configure or install when using a new device.
1. Email
So obvious but I had to put it in. My most used app which helps me to stay in touch with the world. Mostly used to communicate with customers and colleagues email is still the number one form of digital communication for most mobile workers.
2. Calendar
I wouldn't know what I was doing next were it not for me keeping my calendar up to date. My calendar holds both Exchange and Google calendars so that I can keep work and personal activities in one place without them interfering with one another. The main benefit of this approach is that you can colour code the different calendars so you can spot at a glance what kind of event you have booked in.
3. Documents by Readdle
This has replaced the SkyDrive and WebDav Nav apps for me. Connect to all of you cloud storage in this simple but remarkably effective app. I'd go as far to say that this is my favourite free app out there as it means I no longer have to carry a laptop around with me.
4. Evernote
Quite literally my second brain. I use Evernote for all note taking and more. PDF files get dropped here for easy retrieval and many draft articles are written in this app. In fact this post is being drafted in Evernote as it allows me to keep a store of my words somewhere other than on my hard drive. As you cannot access the file system on an iPad and on Android devices it can be a bit messy, Evernote provides the much needed ability to keep written content in one easily accessible place. Mobile Workers who use the Premium features will rejoice when doing searches which bring up the contents of PDF files they have uploaded.
5. Skitch
Take a photo and annotate – this is brilliant for getting my point across. I love how easy Skitch is as it allows me to get the job done quicker. I like that it now stores a copy in Evernote as it is good to know that you can get back older annotated images if you happen to need them for any reason.
6. Google Drive
Google Drive is amazing if you are connected to the internet. Good document and spreadsheet creation tools on the go. Unfortunately it doesn't perform offline so I've stopped using it to draft written pieces as I sometime find that I can be in an area with poor service so I cannot keep going. Drives best feature has to be collaborative document creation and editing. A team of people can update a spreadsheet (as long as it is designed correctly) without having to worry so much about document management.
7. Reminders / Google Keep
I use a combination of Reminders and Google Keep to manage my task lists. I mostly use Reminders for work tasks and then Keep for personal stuff as it is nice to be able to have the segregation. I particularly like the way that you can set repeating tasks in Reminders as this helps me to remember the handful of weekly tasks that I need to accomplish. Keeping your task list digital is important for mobile workers as it can be easy to lose scraps of paper with to-do lists jotted onto them.
8. Adobe Reader
Adobe Reader is better than the built in PDF readers as it allows you to annotate files. It is for this reason that it is now my go to PDF reader.
9. Pocket Cloud
I love that you can have a computer running at your home or office and remotely control it as and when you need to. Whilst I rarely use Pocket Cloud it has got me out of a jam on a number of occasions when I couldn't get hold of a file any other way. Best of all is that the basic service is completely free, which should be good enough for most mobile workers.
Any more?
Are there any apps you consider essential that I've missed off the list? If so drop a comment below and let me know.