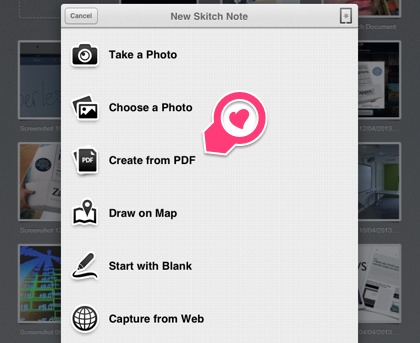 The New Skitch for iOS update now adds PDF mark up features. If you are familiar with Skitch then you'll probably know how easy it is to use to capture and mark up screenshots and crop images. In fact I use it all the time for creating images that get uploaded to this site.
With the latest update for iOS, Evernote integration has become more tight as you can now open a PDF from a Notebook, annotate it within Skitch and then save those annotations. If you spend much time reading and reviewing PDF files in the form of drawings or proposals then you should instantly understand the power of this feature. Although Adobe already have a pretty good free app which does this already…
Stamps
The element which elevates the PDF annotation above a simple PDF annotation tools is stamps. These instantly provide some visual clues about whether you approve the content or just whether you are making observations. These simple graphically elements are created in the bold style we associate with Skitch mark ups. There is no doubting when a document has been marked up with Skitch – which I think is great as it adds a little bit of visual flair to what can often be mundane comments.
Premium
The PDF annotation features are available as a 30 day demo for free users but you will need to upgrade to a premium subscription to have these unlocked forever. I personally use Skitch and Evernote all the time so already have a premium account so this just adds further value for me and I think will make others consider whether to upgrade or not.