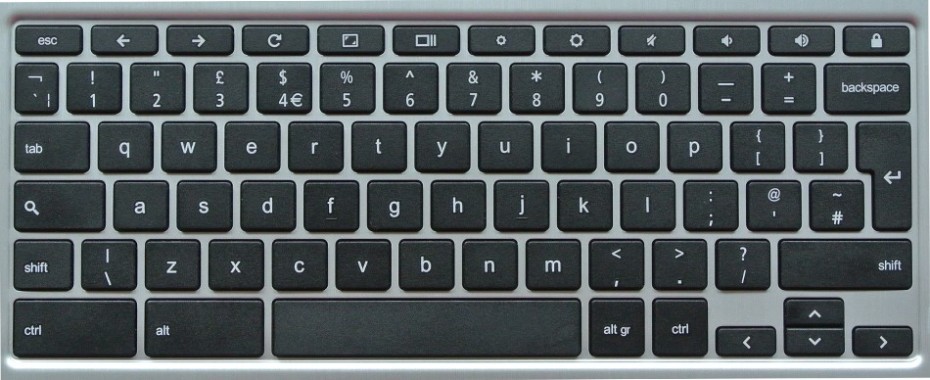 If you are in the market for an Asus Chromebook Flip [UK Link] and doing online research you may want to know more about the keyboard. As one of the key methods of input and being a little bit smaller than the average laptop I've written this article to give you as much detail as I can.
Smaller, but not by much
The keyboard is around 25cm from edge to edge, which compared to 27cm of the 13″ Retina MacBook Pro [UK Link] indicates what a good job Asus have done of fitting everything in. Each key is 1.4cm wide compared to 1.5cm of the MBP.
Whilst the keys are a little smaller, they are well spaced and have a decent amount of travel. So when you are typing, you will notice that there is a small amount of cramped-ness, but you get accustomed to it very quickly. If you've used a keyboard cover with an iPad then you probably have an idea about how this feels.
Typing, typing, typing
Unless you have big hands, you should be able to adapt to the Asus Chrombook Flip keyboard. You see, along with the amount of travel offered, the keys feel snappy and provide a fair bit of feedback. This helps to make the keys feel more 'desktop like' in use and are well suited to bouts of typing. In fact, I've used the keyboard for over an hour at a time and not suffered any issues with the typing experience.
No delete key
As with all Chromebooks the Asus Chromebook Flip keyboard doesn't have a delete key. This may be a pain to some touch typists, but, if you are already on board with Chromebooks or used Apple products, then this should be something you are already used to.
Rather than a delete key, you have a lock button which allows you to quickly log out of Chrome OS. Chrome OS will allow you to map something else as an alternative, but that's about as good it gets.
Search
One of the keys that's taken me the longest to adapt to is the Search key. Present where you'd expect CAPS LOCK, this key allows you to search your apps and the web. It makes perfect sense, give Googles credentials, it just feels a bit odd at first.
More Chromebook keys
If you are new to Chromebooks, then having a look at this helpful article from Google lets you know what some of the more esoteric keys are used for.
Need to know more?
I've tried to be as thorough as possible, but suspect that potential buyers still have burning questions about the Asus Chromebook Flip keyboard. If so, leave a message in the comments and I'll get back to you.