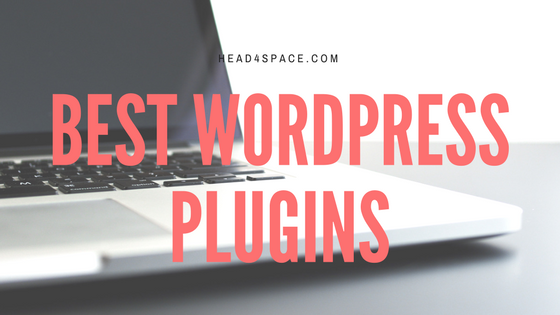 Getting started with WordPress can be a little bit daunting. With all of the plugin options out there, it's hard to know what works and what just makes your site bloated. Don't worry though, here are the best wordpress plugins you should install when starting out. One word to note before we get to the list – be mindful of your site speed. You should weigh up the benefit of using a plugin against the impact it could potentially have on your site speed. Having hundreds of plugins might sound like a good idea. However, you increase the chance of them not working well with each other and seriously slowing down your site. Search engines are not going to thank your for this.
Some time ago I wrote this short article which you might want to skim before you start installing any plugins. It gives a few ideas around what you could do to help with the speed of your site.
Now, onto the list…
Askimet Anti-Spam
Askimet from Automattic saves you a ton of time by automatically removing spam from your blog. Once you start getting noticed, spammers will hit your site hard if you've not got any form of protection. In theory, you could do this by hand. In practise the amount of time this will take is not worth the hassle and will take you away from keeping your site fresh.
So do yourself a favour, get the plugin, sign up for an account. Then, make a cup of tea to celebrate – you've just saved your future self hours of wasted effort.
Google Analyticator
Knowing what's popular on your WordPress blog is key to understanding where you should be focusing your efforts. Google Analyticator works with Google Analytics to automatically share data about how your site is doing. This gives you some tasty reports about your site. Whilst there are other analytics services, if you intend to use Google Adsense as a source of revenue this should be your first port of call. You see, the integration between Analytics and Adsense makes the additional set up effort worth it.
Jetpack
Jetpack provides a bundle of cool tools primed and ready for most sites. I only you the free tools, but you are more than welcome to delve deeper and start paying some money should you choose. My favourite feature is the contact form. This avoids having to publish an email address and still get messages from people wishing to get in touch directly.
I also really like the automatic social media sharing. So when I publish an article on my site it gets sent out the the social media channels of my choice. It's super simple to set up and is another time save.
W3 Total Cache
As I mentioned right at the start, having a faster site is seen favourably by Google. This improves your chances of getting higher up the rankings. W3 Total Cache takes the content which is usually being dynamically generated by WordPress and saves it as static files. This works by serving your content from a cache of static files. There files are significantly easier and therefore faster for your web host to handle.
There are a bunch of other neat tricks W3 Total Cache can do – which you should research. I personally rely on the CDN functionality given that a large proportion of my web traffic comes from the US. As my site is hosted in the UK, having lots of the content served locally speeds things up. You can read a bit more about my CDN setup here.
Lazy Load for Comments
Another trick for speeding up your website loading time is to 'lazy load' the comments. This plugin loads the comments section either when a reader scrolls down or clicks on a button. By doing this, the initial page load time is reduced and improves the overall experience for your readers. This is also appreciated by Google, thereby improving your ability to rank higher in search engine results.
Yoast SEO
Yoast SEO is an awesome plugin which provides you with lots of hints and tips around how well your post is going to read and potentially be ranked by search engines. SEO stands for Search Engine Optimisation and is a technique for giving your content the best shot at being picked up by Google, Bing, Yahoo etc. I personally pay more attention to the Readability score and follow most of the advice for SEO. If I miss a few bits and pieces, I do not get terribly hung up as it's more important that the post is understood and enjoyed by humans over robots.
WP Smush
You'll probably pick up a theme around speed from this article and WP Smush is another of those plugins which helps to optimise my sites for performance. WP Smush compressing images hosted on your site, so they take less time to load. As images typically take up more bandwidth than text or the underlying code, it is worth while having them optimised for quick download speeds.
AMP
AMP stands for Accelerated Mobile Pages and presents a simplified and accelerated version of your website to reader on mobile devices. This reduces the amount of data being pulled down by mobile browsers and helps give your users a fast and clean experience whilst on the mobile gear. Google is a big advocate of AMP and will help your site reach more folk through Google searches.
Cookie Law Info
If you are based in the EU (as I am) you need to make your readers aware that if any of your plugins, or associated services on your site contain cookies that they are notified of the fact. The Cookie Law Info plugin puts a simple bar at the bottom of the page explaining cookies are present on the site and it allows the user to clear this notification. You absolutely must have this if you are using Google Adsense for ad revenues as Google uses a cookies as part of their service.
Any More?
Noe you have my go-to bundle list of best wordpress plugins. I only have two more beyond this list installed and active on Head4Space… One enables Yoast and AMP to play nicely (Glue for Yoast SEO & AMP) and the other is for some short links I created a few years back (Pretty Links).
Are you aware of WordPress plugins which you think every site should have installed? If so, please leave a comment below and let us know why you think I'm missing.