Many information workers these days will be accustomed to spending hours on the phone, Skype, Lync, Hangouts or part of conference calls. The need to stay connected and collaborate is still ever present, despite workers being distributed across the globe. For the last month I've drastically improved my setup by adding a Jabra 510 Speakerphone into the mix. After much extensive research (and a look at what Google package for their video conferencing solution) I decided to take the plunge and am here now recommending that you consider improving your setup.
Jabra 510 Bluetooth Speakerphone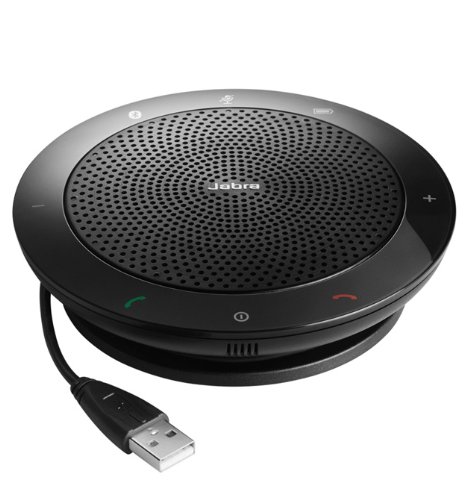 The Jabra 510 Bluetooth speakerphone [UK Link] connects to a compatible Smartphone (Android, iOS and Windows) over bluetooth. Once connected the loudspeaker means that you can hear what's going on, whilst the microphone ensures you can be heard. Where this differs from the loudspeaker function of your phone is that the audio quality is superb. As long as you are within touching distance of the Jabra 510 whoever you are speaking to can hear you. And, it's loud enough to be heard in a small room. In fact, whilst reading Amazon reviews about the Jabra 510 it seems that this would work perfectly instead of a dedicated (and often expensive) conference phone. It's small enough and light enough to pop in your bag and runs off battery for when you need to create a conference environment on the go. Apparently it has a battery life of 5 hours – although sat on my desk, this is not a feature I've put to the test.
The Jabra 510 sports active echo cancellation. So, you can be sure that irrespective of whether you are using a conference call service (like Powwownow), Skype, Lync or Hangouts you can be sure that you are going to be heard – loud and clear.
Being liberated from the headset is a genuine revelation. Not only does this aid comfort through the day – I must typically spend two hours per day on the phone – it does it in an entirely reliable and predictable way. Once you've worked out how to connect your phone (which is pretty darn easy), when the Jabra 510, is on it is connected to your phone. Then if for some reason you do not want to take the call on the Jabra 510 you just change the the headset location on your mobile phone.
There are also touch sensitive 'buttons' on the Jabra 510 so that you can mute, check battery life, change volume and hang up. These are the kind of buttons that you might find on a swish TV. That is, rather than feeling a physical click, just a light press of your finger is enough to invoke the function. This add to the premium feel of the unit.
Chromebook
If you plug the Jabra 510 into a Chromebook it can operate as a Microphone and Speaker. So, this is perfect for improving the often poor audio quality of most Chromebooks. I've also had it running in conjunction with Skype on my Toshiba Chromebook 2, like I said before, it just works.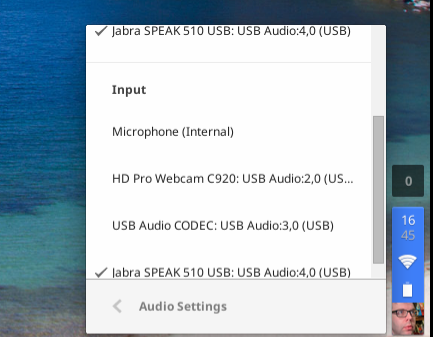 OnePlus One
Having been seduced by the large screen, great specs and low price I am now a proud OnePlus One user. I can attest that the Jabra 510 works like a charm with this mobile phone. It works solidly without fault every single time. Admittedly the phone and Jabra 510 aren't far apart. But it's good to know that these key devices work like a charm.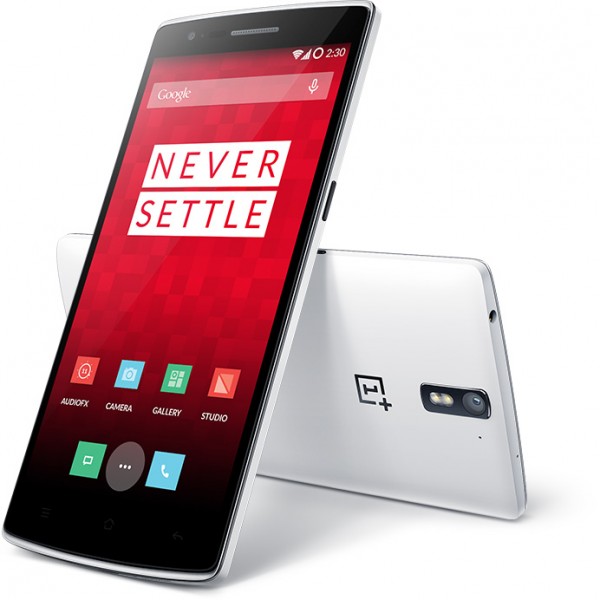 Skype and Lync
I've using the Jabra 510 to improve audio quality in both Skype an Lync conference calls. When I switch my audio preferences in Skype and start using the Jabra 510 my colleague has mentioned that it 'sounds like you are in HD now'. I couldn't be happier with this little beauty.
Final Thoughts
If you work from home and spend a lot of time speaking to people on the phone, or joined into conference calls then the Jabra 510 might be just what you are looking for. Give your ears a break and feel far more comfortable whilst you are working with this box of tricks.