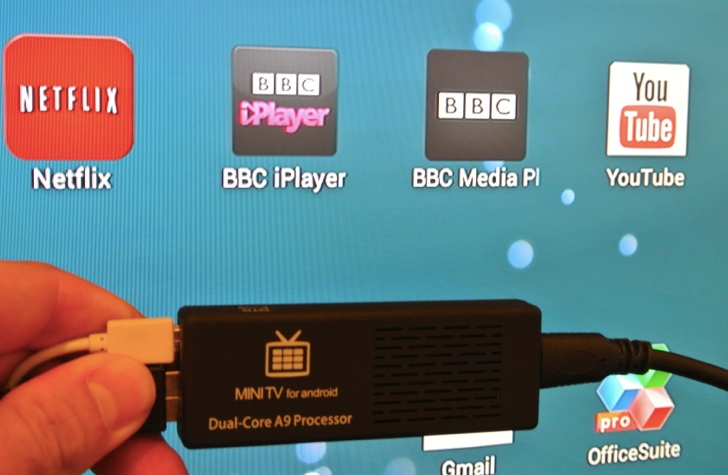 There has been an explosion of people wanting to use devices such as the Chromecast, Apple TV and Roku to watch media on the large screen. These gadgets allow you to stream media over the internet and are small enough to fling in a bag if you want that same experience elsewhere (internet access permitting).
I've been experimenting with an Android Mini PC over the last few months and have come to the conclusion that it is an excellent media centre device. Here's why:
Runs most Android Apps
With the device plugged in you can install and run most Android apps. I've found that the iPlayer works excellently as does Netflix. Assuming that you are close to a wireless source (same room is essential) you can stream media delivered through Android apps to your screen. Thus your screen becomes a Google / Smart TV for very little cash. You can of course browse the internet and play the odd game but for me the experience isn't quite as good as a full computer or tablet.
So far I've found that neither 4OD or Sky work with my Mini PC. This is a shame but is understandable as they have the potential to decapitate these businesses.
Stores your own content
If you want to expand beyond streaming media and store your own video then you are out of luck with Apple TV, Chromecast and Roku. But with the Android Mini PC you have expandable storage with a Micro SD slot. This should enable you to carry a lot of content around with you in a very small box and not need internet connectivity. This is great for hotel rooms where it is much nicer to watch the big screen than huddle over a laptop display.
Works with inexpensive mice and keyboards
You can plug in any USB mouse and keyboard and get it to work with an Android Mini PC or splash out on bluetooth versions so that you have control from the comfort of your sofa. As most of the time spent with the device is done watching then this is another area where you can spend less as it doesn't detract from the main purpose. For instance I run mine with just a USB mouse connected and use the onscreen keyboard. It might take a little while longer to start something from iPlayer but I can put up with the mild discomfort.
CheapCast
And now that there is a free app that emulates Chromecast called CheapCast you can fling content from a phone or tablet to your big screen from the comfort of your sofa.
Is cheap
For less than £35 you can get a Android Mini PC that will run most apps and is capable of running media copied onto it. Spend another £10 on keyboard and mouse (if you do not have them already) and you are set. Nothing else to buy.
Any thoughts?
Are you running an Android Mini PC as a media centre? If so do you have anything to add? Considering a purchase and want specific info? Either way get in touch and let us know your thoughts.