If you want to connect an Apple TV to a VGA screen or projector without a HDMI port then this article is for you.
HDMI to VGA
Every Apple TV has a HDMI port which carries the audio and video information to your display. If you do not have an input port on your display then you can purchase a converter that will connect your Apple TV and Display together. You may also need to buy a cable or two if you want both the audio and video signals to be sent to your display.
Connecting it up
This diagram shows you how the various components connect together: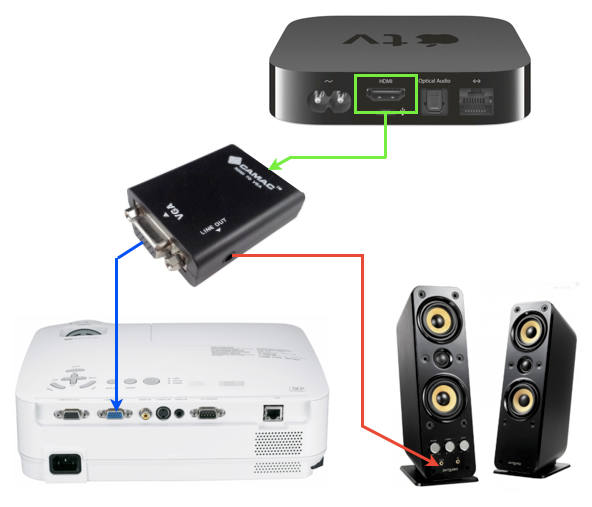 Parts List
Things to be aware of
HDMI carries both the audio and video signals so if your screen or projector doesn't have a speaker (or the speaker isn't powerful enough) then you may need to handle the audio separately.
If you are mirroring an iPad onto the Apple TV then it has a native aspect ratio of 4:3. If your screen natively outputs to 16:9 or 16:10 then you will probably see black bars either side of the mirrored image. Don't fear though when you stream widescreen video the native aspect ratio of the display is recognised and the bars disappear.
Audio
You can send the audio to a separate set of speakers either as an output of the converter or from the Toslink port. Have a look at this article for more information concerning connecting amp and speakers through Toslink.
Best feature
What I like most about this setup is that if you have an older projector you still can have the full Apple TV experience without breaking the bank. This is particularly useful if you wish to wirelessly project images, video or presentations for your enjoyment or to help engage an audience.