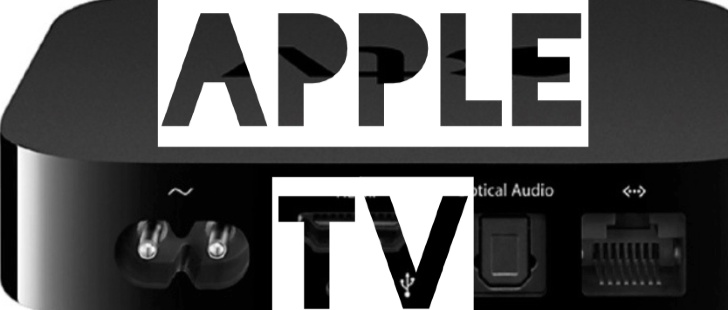 If you want to connect an Apple TV to you stereo amplifier and speakers but don't have a digital input then this article is for you.
Toslink
Apple have thoughtfully provided a Toslink port on the back of every generation Apple TV. This is so that you can connect via a digital cable for enhanced audio whilst watching films or as a means to enjoying streamed music either from iTunes, iPhone or iPad.
I have an amp without a Toslink port
If you wish to connect your Apple TV to a traditional amp and speakers which doesn't have a Toslink port then you will need to invest in a DAC and Toslink cable. The DAC (or Digital Audio Converter) translates the digital signal into an analogue signal which you stereo amplifier can understand. Plug in a set of RCA (Red and White / Black) cables between your amp and DAC and then the DAC to the Apple TV and you are set.
This is how it all logically connects together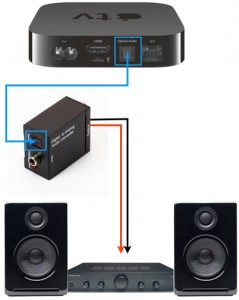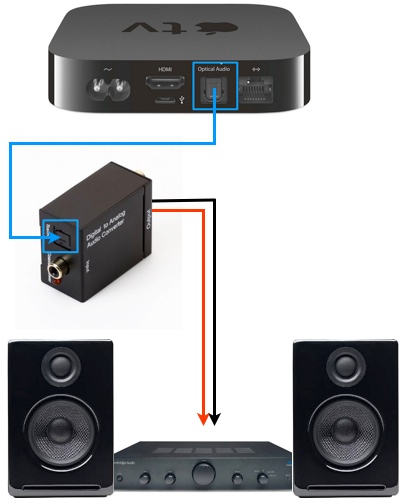 What works
Without breaking the bank these two components from Amazon will enable you to cheaply (<£20) connect your Apple TV to amp and speakers. I know because I have them doing just this job myself.
Digital Audio Converter (US link here)
Toslink Cable (US link here)
Things to be aware of
Your DAC requires a power source so may have to find an additional plug socket to power it whilst in operation. Also the Toslink digital cables are more susceptible to damage than traditional analogue cables – so it is a good idea to take a little bit of care whilst moving them around.
My favourite benefit
What I like most about this setup is that you can play music through the Apple TV without the display being switched on. Streaming from Spotify is a great way to spend the evening listening to old faves and finding new tunes that might one day become old faves.
Video
The following video shows this how you can connect all this stuff together