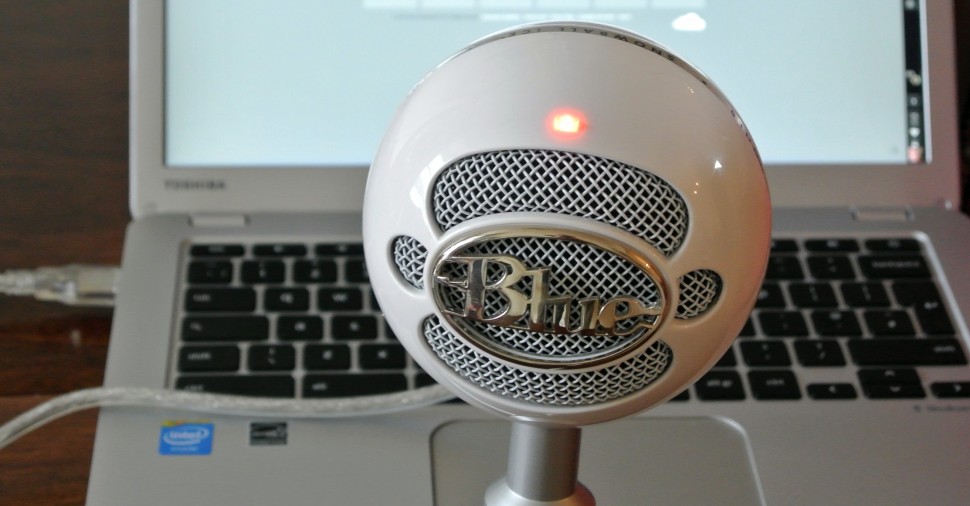 As Chromebooks become ever more popular, people want to be able to utilise them in creative endeavours. If you look at a lot of the Pixel artwork, it shows some bearded hipster-type using his Chromebook in what looks like a creative workshop setting. Fortunately for us, we do not need to grow a beard, but we can use our Chromebooks for creating stuff.
Process
The process is pretty simple really. First you plug in your Microphone, then from within the dock you select the Microphone as your input source.
Next to where you change the volume there is an arrow that takes you to your audio settings: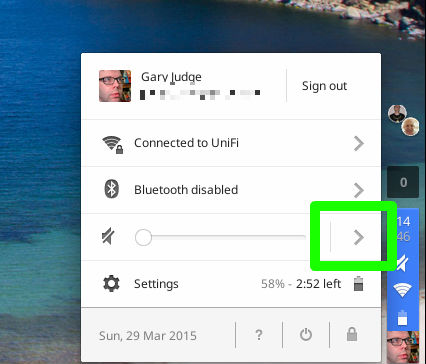 Select your USB Microphone by clicking on it: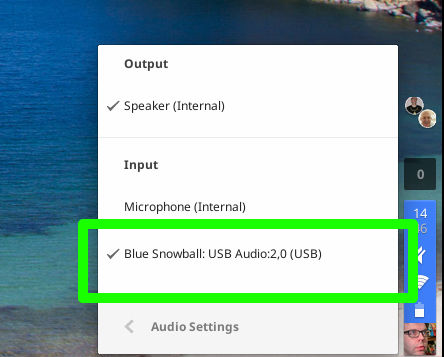 And that's it, doesn't get much easier than that.
Selecting a USB Microphone
In this article, I'm using a Blue Snowball Ice USB Mic [UK Link]. This is a good all-round device that captures far better quality sound than the built into your Chromebook. I'd heartily recommend this if you are interested in capturing voice or acoustic instruments. It's a no-nonsense plug and play affair which doesn't require drivers.
If you are looking for a different type of USB Microphone to use with a Chromebook, it must not require drivers to operate. A bit of research before spending your hard earned cash will save you hassle, or failing that make sure you buy from a site like Amazon – they're really good at refunds if things don't work as expected.
I haven't personally tried a wide range of USB Microphones but can confirm that my Alesis 320 USB speakers [UK Link] (with audio input) are recognised. And I'd expect that a lot of low cost devices will just work as they tend to use the same USB components.
What does it sound like?
Listen to it for yourself. Here are a couple of super-quick test recordings to show you the kind of improvement you can expect. Both are recorded in the kitchen with the same amount of background noise.
You will get better quality if recording in an environment with no background noise.
What next?
There are three key areas where I can see that having a good quality USB Microphone will be of benefit.
Hangouts
If you regularly use hangouts to chat, collaborate and work with others, having a good quality audio source can make the world of difference. I'd go as far to say that poor video is more tolerable than poor audio. You see, when using Hangouts it's likely that others have your image in a small window. In which case the video is more of an add-on than the main focus. Whereas if your sound is weedy, others have to put up with it.
Screen Recording
If you are recording your screen to help others see what you are doing, then good quality audio matters. It can set your how-to guide apart from others and help you get noticed. Once again, poor quality audio, makes you look a little amateur-ish.
Screencastify will let you capture both what is happening on screen with audio. The free version allows you to capture up to ten minutes of screen and audio and there is a premium edition for longer files.
Podcasting
Podcasting is having a bit of a renaissance of late, and if you want to get on the band wagon then good quality audio is a must. Teamed with either Screencastify or Soundcloud you can turn your Chromebook into an audio capturing device for mobile light-weight podcasting. You will need to be connected to the internet to be able to take advantage of these options. You may also need to pay for premium features if the free editions aren't sufficient for your needs. But at least this provides a low cost way of dipping your toe in the water.
[update Jan 2018].
Since this article was first written, Android apps are becoming increasingly commonplace on Chromebooks. If you have access to the Google Play Store and have an Intel Chromebook, then CrossOver opens up the potential to run the Windows version of Audacity on a Chromebook. The great news about this is that you do not need to be connected to the internet to record / edit, nor do you need to get in the weeds with running chroot on your Chromebook.
Here is a screenshot of Audacity running on my Chromebook: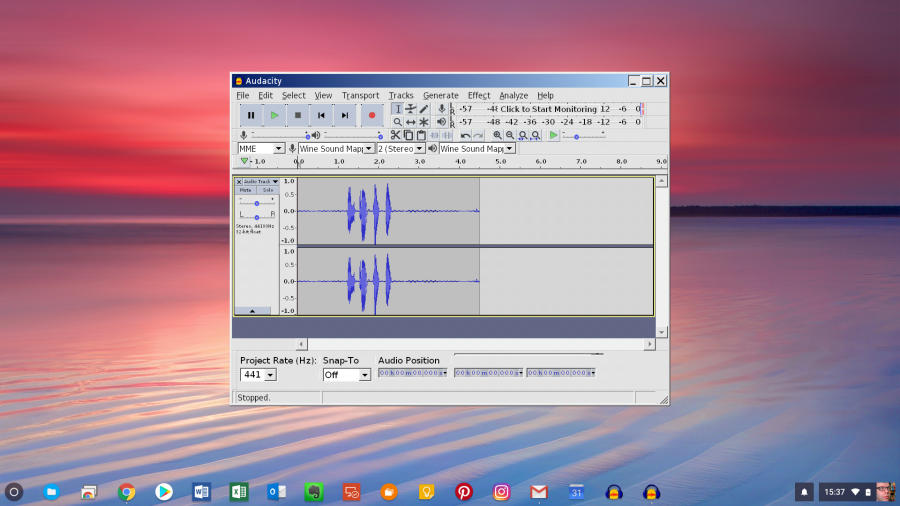 As part of my testing, I can confirm Chrome OS passes the microphone signal to the application – even if it is running through an emulator. Also, you can install the LAME dll which allows you to export to mp3 directly from the application. Pretty neat, huh?
What do you plan to use yours for?
Now that you know how easy it is to connect a USB Microphone to Chromebook there should be no stopping you. If you are doing something a little different (or plan to at least) please leave a comment as we love to hear what others are up to.