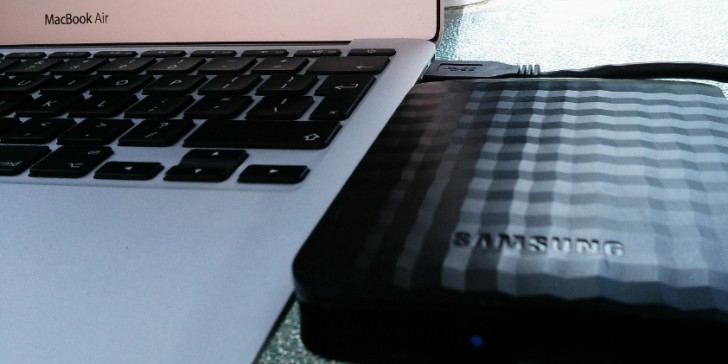 I've considered a number of external hard disk drives for my SSD MacBook Air to provide additional storage capacity. After much deliberation and shopping around I settled on a Samsung M3 1TB USB Slimline device. Below are a number of reasons why I settled on the M3 and even if you don't go for this product is probably a decent list of things to consider when making a purchasing decision.
USB 3
All MacBook Airs manufactured July 2012 and beyond have USB 3 ports. It therefore made a lot of sense to purchase a drive that was capable of using some of this extra bandwidth. What is so good about USB 3 is that it isn't a bottle neck is the chain. Instead you will find that the limiting factor on any external hard drive complete with USB 3 now is the drive speed.
USB bus powered
Being as my laptop is often used away from a power source it is important that my drive is capable of being powered entirely from the USB port. This does impose some constraints in terms of maximum drive speed and storage capacity but I'd rather carry two drives that could be powered over USB rather than one which required me to search for power points.
Capacity
I wanted to be able to carry my DVD rips with me (created using Handbrake). So here I settled for a 1Tb drive as this largest capacity I could get whilst not requiring additional power. 500Gb is cheaper but only marginally and I'd fill this quicker.
Small and Light
As this gets flung in a bag it is important to me that I'm not carrying around a brick. At 150g this doesn't add a great amount of weight to my bag and is worth it for the additional functionality it offers.
Don't forget the case
Whilst buying a drive if (like me) you intend to fling it in a bag then a case is essential to keep it protected from knocks and bumps. This Logitech case is great for holding the drive and its cable. I also stash a pair of headphones in here too as I always know where a pair are when I want them.