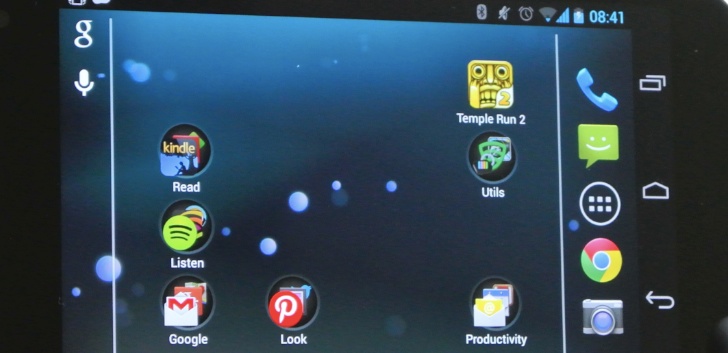 If you've wanted to have your Google Nexus 4 run a landscape homescreen then this utility is for you.
Ultimate Rotation Control overrides the standard Android settings and enables you to run a landscape home screen. This feature is not available out of the box so for the time being you need to install 3rd party software to get what you want.
Why?
You might want to do this to force apps that only run in portrait in landscape. So for instance Spotify now aligns everything according to how you have your screen rotated. Whilst there is limited vertical screen real estate to get everything on there are times when you aren't holding the phone in your hand but have it in a cradle.
Navigation
I personally wanted this feature as I like to have the Nexus 4 in landscape mode when using Navigation within my car. Teamed with this cradle (which works with a number of different devices) I can plug my Nexus 4 in and have it set up in landscape mode to make the most out of Google Navigation. And when I drop out of Navigation then all of icons snap back to portrait without this app. As I'd rather not have to swivel my phone to be able to see them properly aligned then this app solves this problem for me.
Nexus 7
Google initially released the Nexus 7 without the ability to rotate the home screen, which is how I came across this app initially. It then updated Android to allow rotation of the display but for some reason this hasn't found its way into Android for Nexus 4. There may come a time in the future where this option is enabled as part of stock Android for smaller screen devices, however in the meantime you can use this app as it costs less that £2.
Root
The good news is that this app runs without the need to root your phone as it runs with standard permissions.
Have you tried this? Are you happy with the results? Make a comment and let us know what you think.