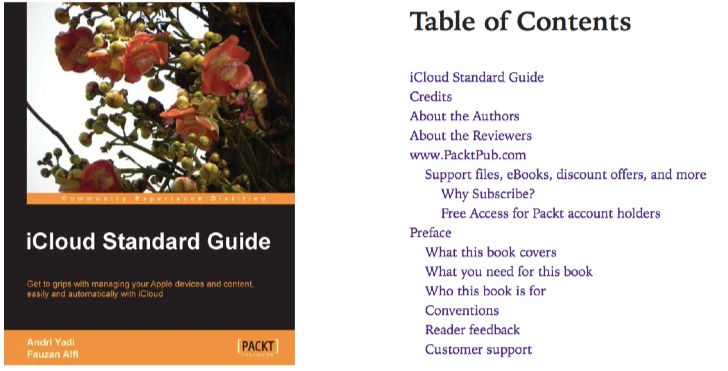 If you are in the market for a book which describes the ins and outs of iCloud then you are in luck. Published this week by Packt Publishing the iCloud Standard Guide takes you through every facet of iCloud shows you how to and why to use it. If you have been using iCloud for a while then this may only introduce a few new things to you. But if you are new to iOS / Mac and iCloud un particular then this book will quickly get you up to speed.
What's in the book?
With about a 100 or so pages dedicated to showing you how to set up the various components this book is more manual than anything else. It's very well written and the writer imparts his knowledge of the subject in a light but authoritative way – I liked that the writer showed some personality and talking about his Indonesian homeland. It's co-written so I wasn't sure who sprinkled the books with these little insights of Indonesia but its a good touch either way.
As a daily user of iCloud there were very few things new to me but what I did find is that everything the book covered is accurate and easy to follow. If anyone asked me to recommend a manual for iCloud then I'd have no trouble in recommending this book. I'm not sure if anyone will ever ask me to do this so to me this begs the question 'who will buy this book?'.
Who will buy this book?
I think that are two potential types of people who would benefit from this book. They are:
New to iOS / Mac / iCloud and a little bit confused about what it is and how to use it?
IT professionals who don't use iOS / Mac / iCloud but need to have an appreciation to help advise and support customers and colleagues.
If you are either of the above then spending £12 on the eBook will see you well. Please be aware that this is not a book for developers. There is no mention about how to integrate iCloud into your own apps. It doesn't claim to be for developers but thought I'd point this out just in case.
Where can I get it?
If you are interested in buying iCloud Standard Guide then you can purchase it from lots of places. Firstly there is the publishers website, or if you prefer Amazon and it is naturally available in the iBooks store. Whether you're after an eBook or something on paper you should be able to find what you are looking for at one of these destinations.