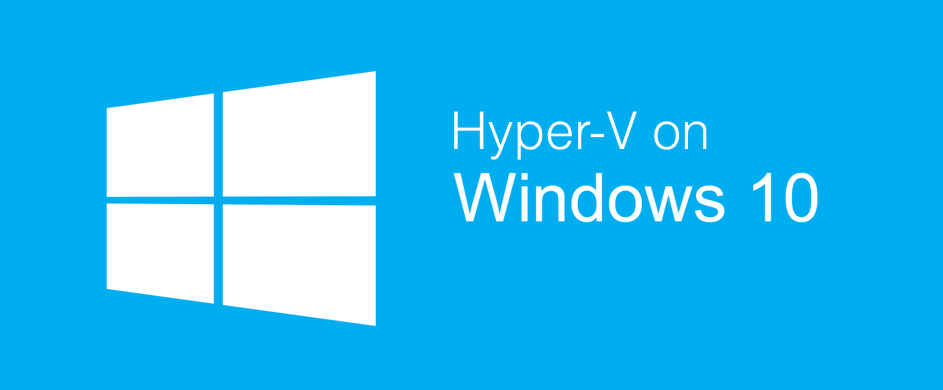 Hyper-V on Windows 10 Pro allows you to use your computer to run virtual machines (such as server operating systems) on top of Windows. For anyone wishing to study for server based Microsoft certifications (such as MCSE / MCP) or wanting to learn more about Linux and possibly run Windows XP for development purposes this is great news.
Whilst putting this article together, many of the screenshots were captured using a Windows 10 virtual machine as I did not want to undo the configuration of my lab setup.
Before You Start Configuring Hyper-V on Windows 10 Pro
Hyper-V itself does not require a great deal of disk space or RAM, but your virtual machines will. Also, the speed of the disk on your host machine will have a big impact of the virtual machines performance. Whilst you do not need loads of fast storage and RAM to run a virtual machine, if you plan to run many virtual machines then you may start to struggle if you aren't running a computer with lots of RAM, CPU power and fast disks.
To this end, my lab computer is a Primergy TX1310 M1 server, it has 16GB RAM and comes with two 1TB server class hard drives which I have configured as separate drives. I've expanded this computer to include a 240GB SSD and have re-used an old 2TB SATA HDD installed into a removable tray as a backup device. I alternate the location of the virtual machines on different drives, this minimises the situation where a single drive is doing all of the work and becoming a bottleneck.
As this is a lab machine, I'm comfortable with not having the resiliency and redundancy usually associated with running a server.
Installation Process
Now you've taken into account whether your computer is up to the job of running virtual machines. The following process outlines how to get Hyper-V installed.
First off you need to right click on the Start Menu Windows icon in the bottom left hand corner: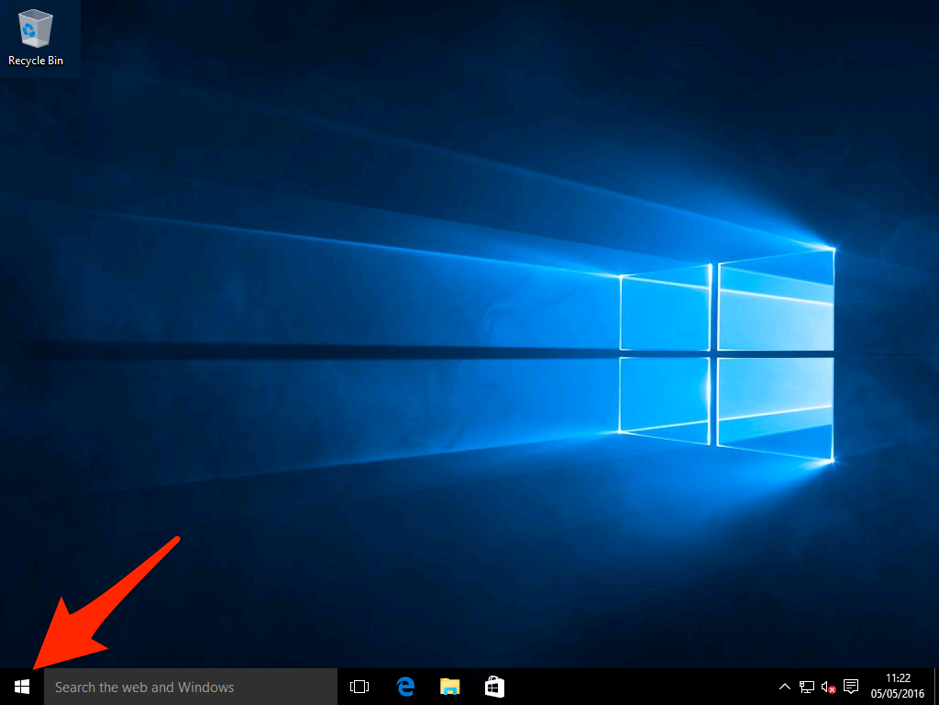 This will present you with a text based menu. Left click on Programs and Features (it's at the top of the list):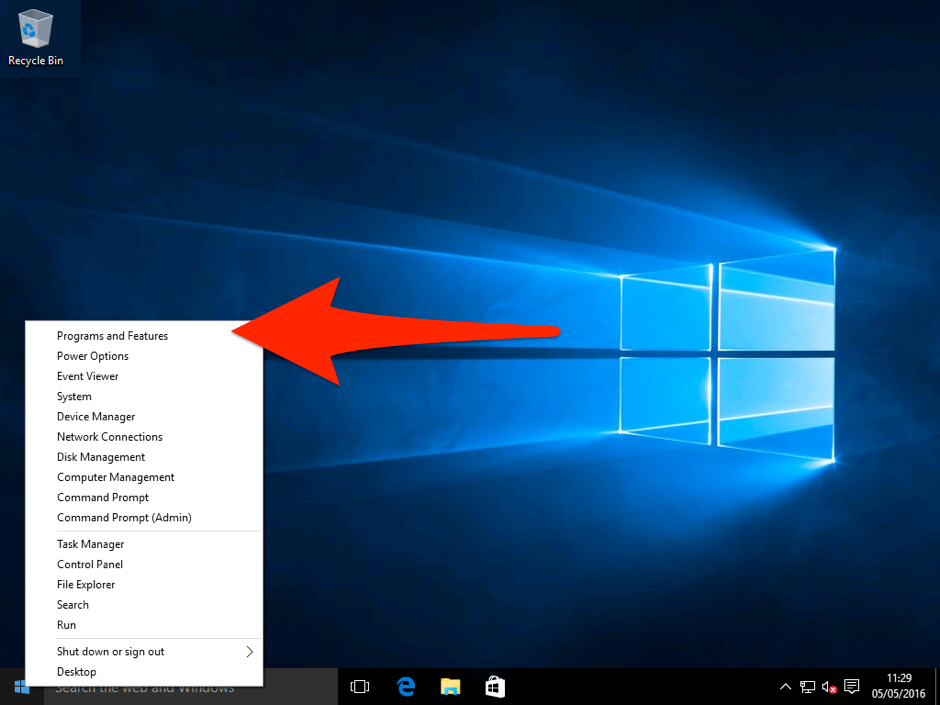 Once you've selected Programs and Features you should see all of the applications you've installed on your machine (because this is a clean virtual machine, mine is blank). Left click on Turn Windows features on or off: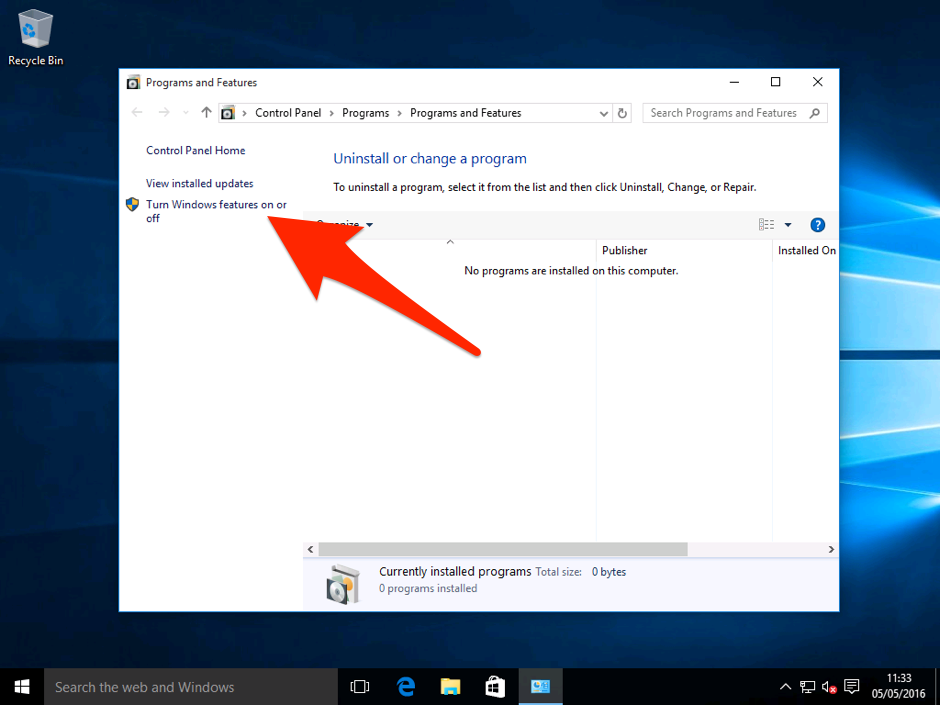 This will open up the Windows Features window, where you need to put a tick in the box for Hyper-V, then click OK: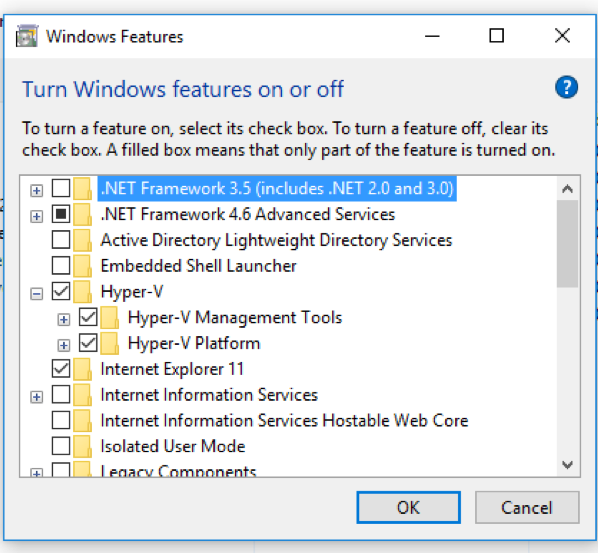 Whilst this is working you will see the Applying changes progress bar, then Windows completed the requested changes. Click Close, this should reboot your PC and start the Hyper-V service when the computer has started back up.
After the reboot, go to All Apps from the Start Menu and then scroll down to Windows Administration. You should now see Hyper-V Manager as a new icon: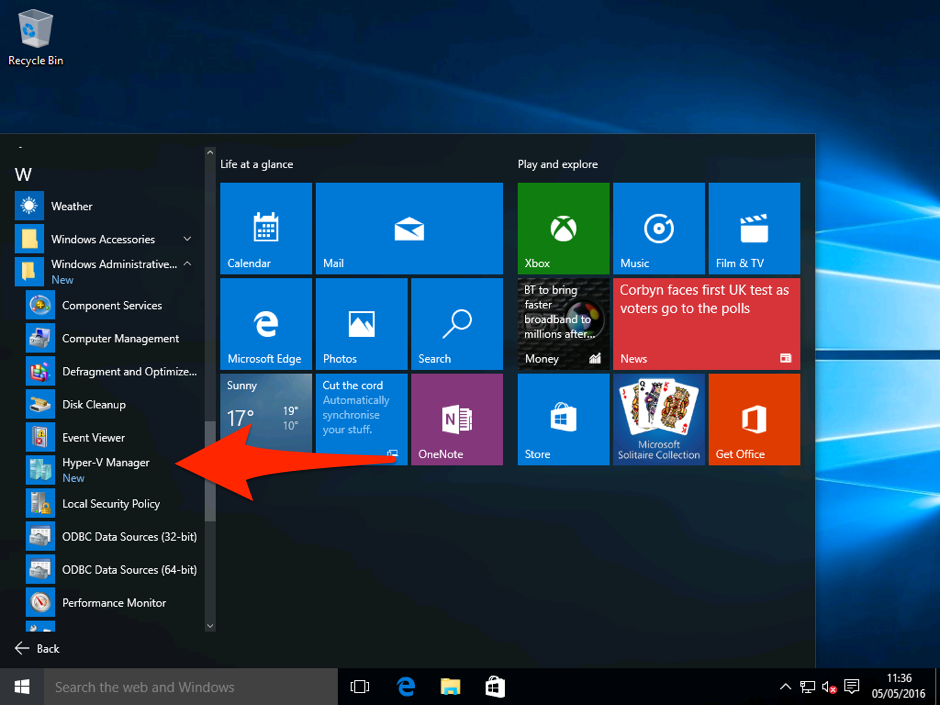 Because Hyper-V does not run within Hyper-V, I've had to move over to my main setup. The only thing to note here is a few virtual machines I've created for testing things out: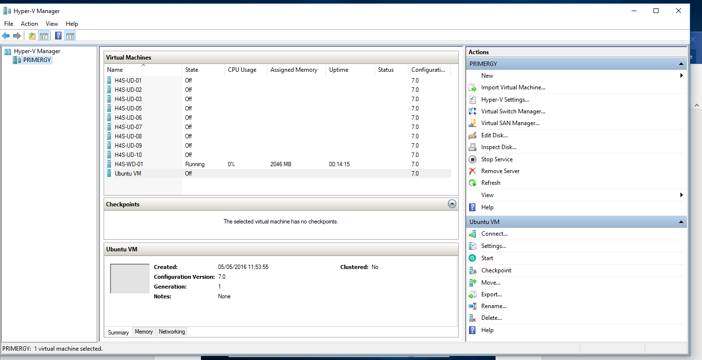 Getting Started with Hyper-V
To get started with Hyper-v you first need to create a virtual switch and then you can create a virtual machine. To make sure you get off on the right foot, I'll quickly run through the process for getting an Ubuntu virtual machine created. The process assumes you have downloaded an Ubunutu iso file, which is available here.
As mentioned above, you need to first create a virtual switch, this allows you to connect virtual machines together and provides access to the internet.
On the right hand side of Hyper-V Manager left click on Virtual Switch Manager: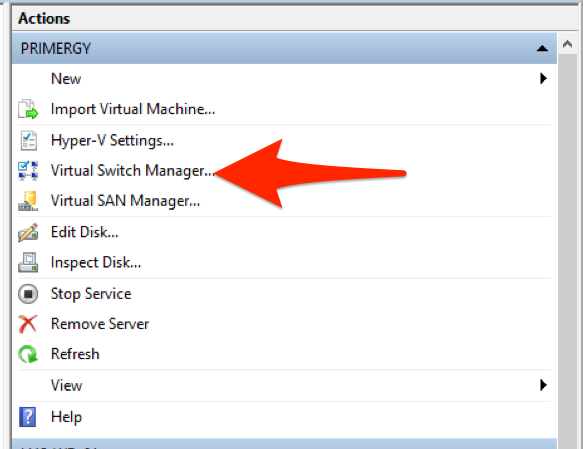 Then left click on Create Virtual Switch.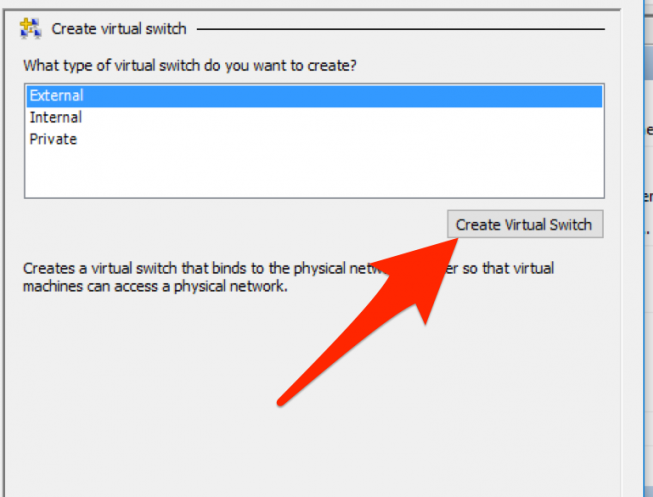 Give your virtual switch a name (I've left the default New Virtual Switch as it will get deleted once I'm done), then click on OK: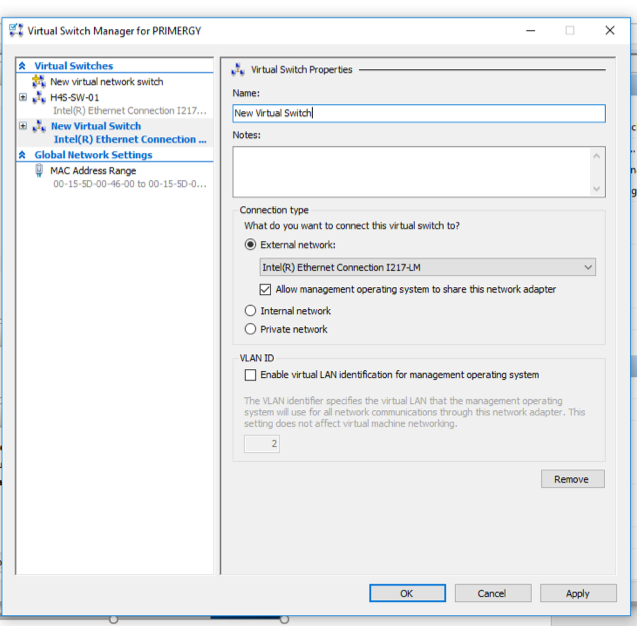 Now you can create a virtual machine by left clicking on New -> Virtual Machine…: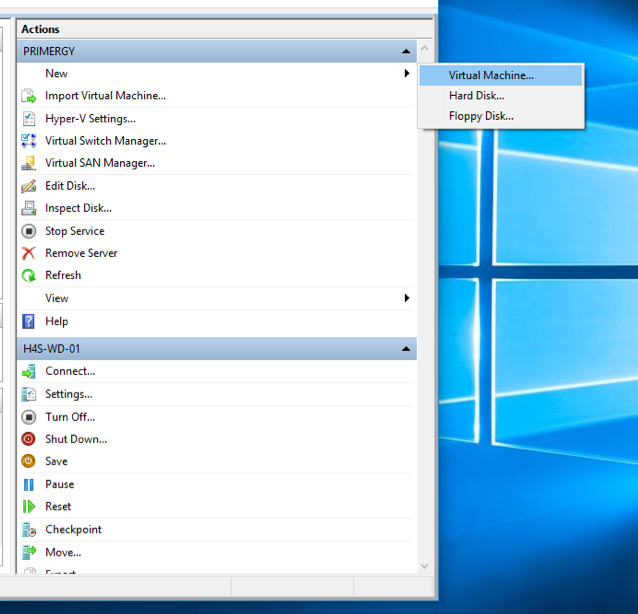 Click Next> through the Before You Begin screen: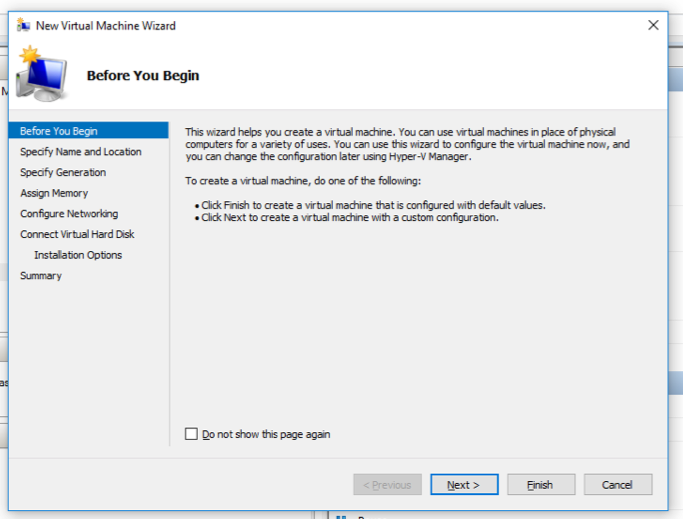 Then give your new virtual machine a name (I've used Ubuntu Test). If you have multiple hard disks, you can store the virtual machine in a different location. I've changed from the default to F:\VM, although you can ignore this if you only have one disk. Now click Next>: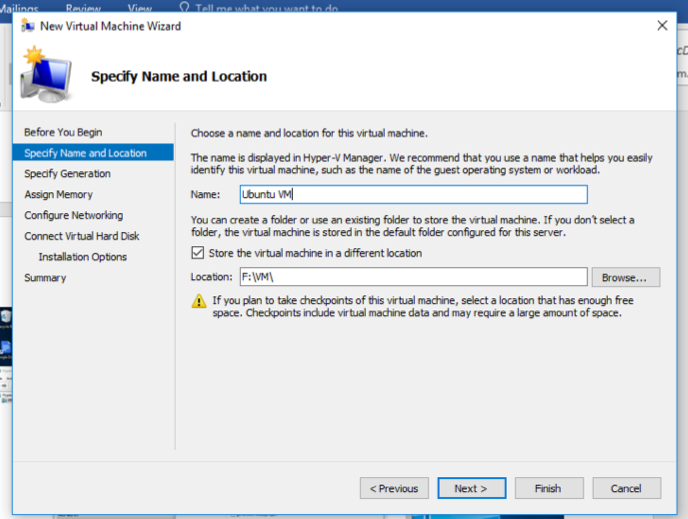 Leave the default Generation 1 then click Next>: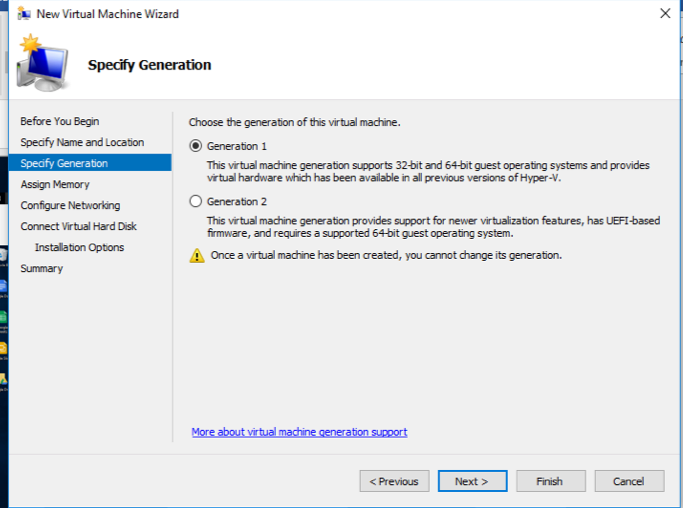 Change the amount of startup memory from 1024 to 2046 or greater (this depends upon how many virtual machines you intend to run and how much RAM available in your computer). Also, untick Use Dynamic Memory for this virtual machine. This ensures your virtual machine has 2GB allocated to it. Then click Next>: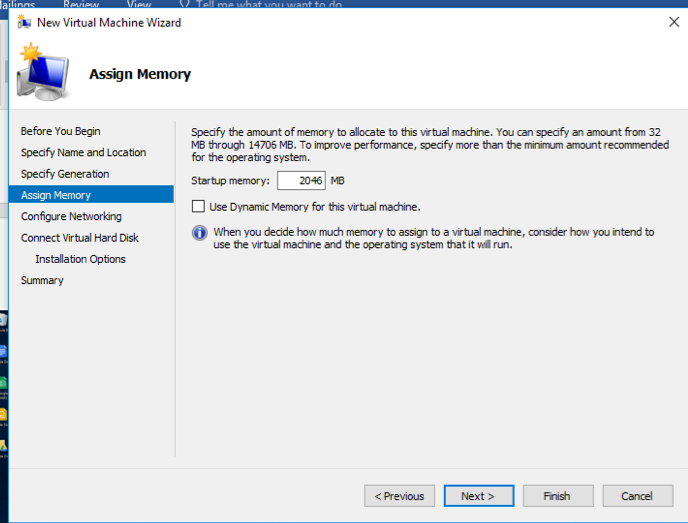 Select the virtual switch you created earlier when prompted for a Connection. Then click Next>: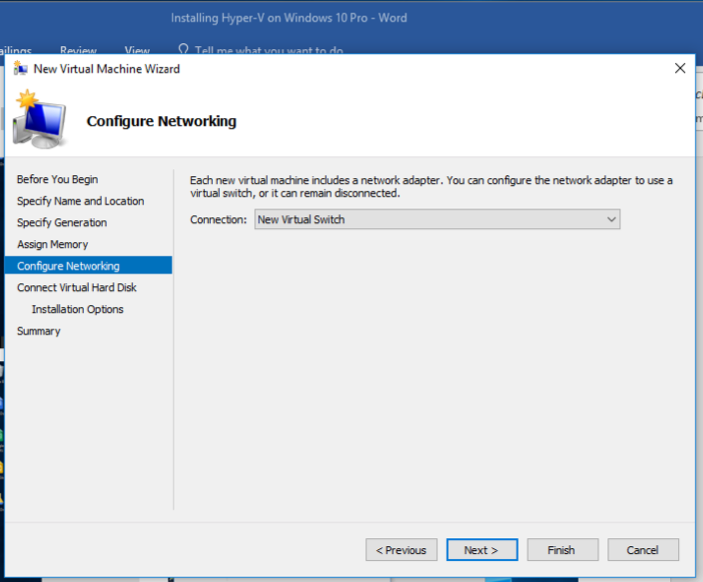 Check the location of the Virtual Hard Disk being created is right and then click Next>: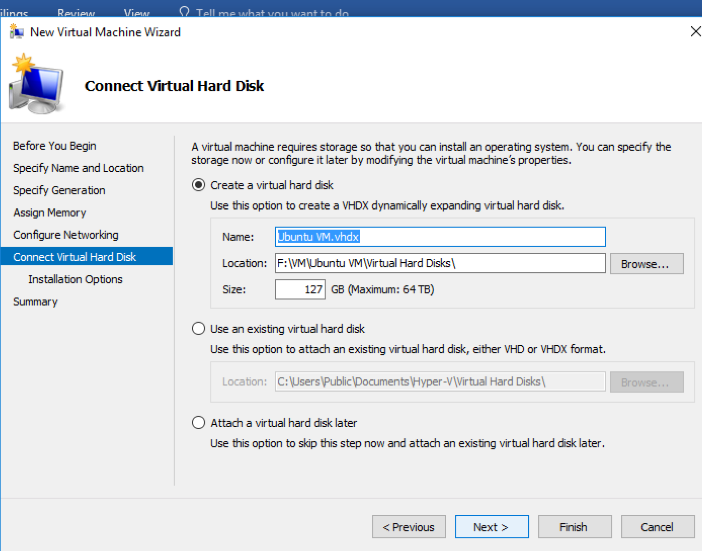 Select Install an operating system from a bootable CD-DVD-ROM and the select Image file (.iso). Left click Browse and select the Ubuntu iso file you downloaded previously. The left click on Next>: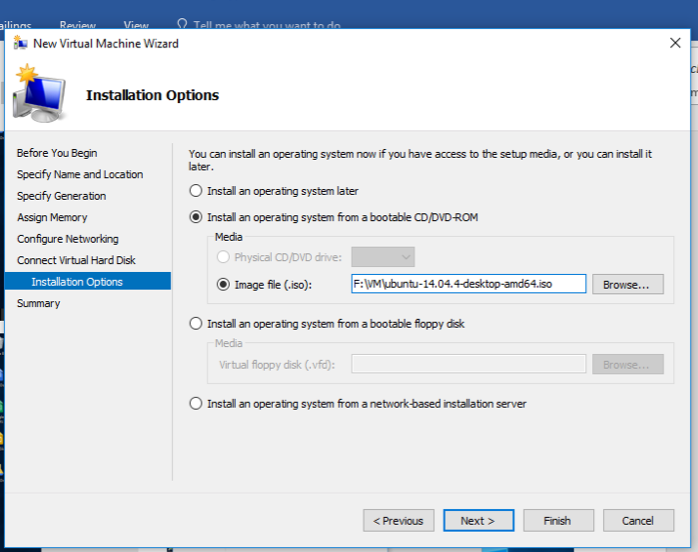 Check the settings look right, then click on Finish: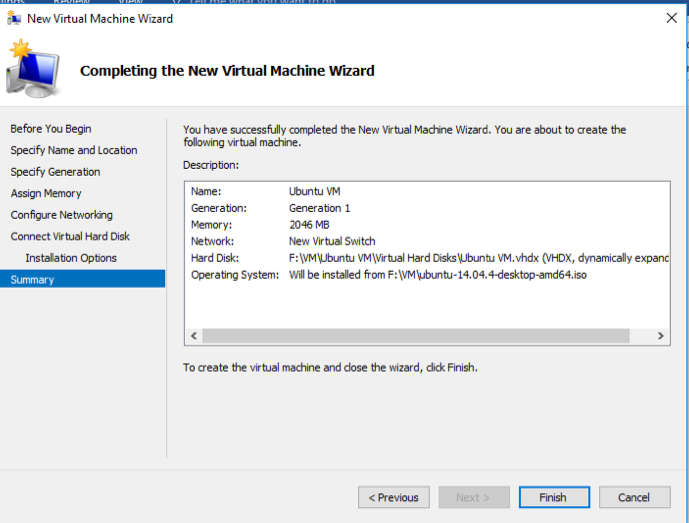 Once everything has been created you can open the New Virtual Machine by double clicking on it.
Then start the bootup process by clicking on the green 'power button' on the virtual machine toolbar: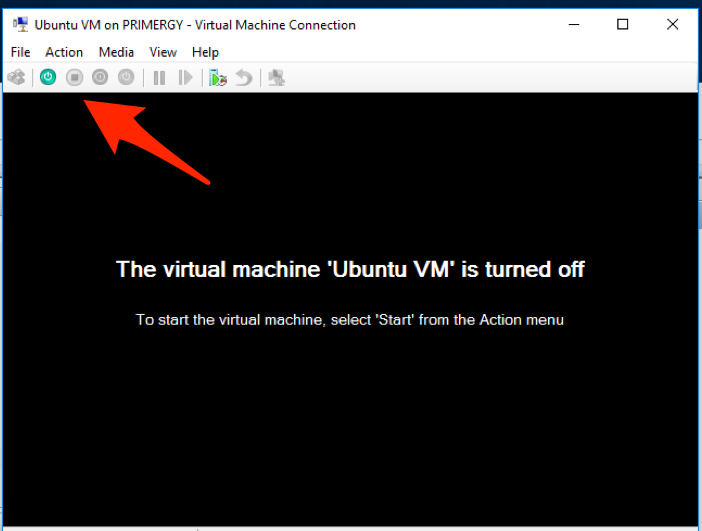 The virtual machine should start to boot and give you the option to install Ubuntu: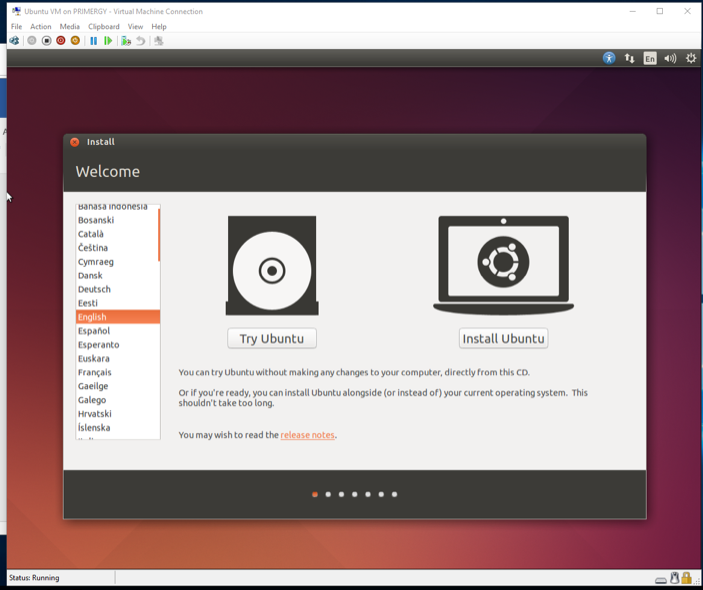 Wrapping Up
Now you have Hyper-V on Windows 10 Pro installed you can run lots of different operating systems safe in the knowledge your underlying machine is not going to break from some of the experimental changes you might make. This is perfect for a lab setup where you are either trying something new or learning about how things work.
I'd be keen to hear if this guide has helped you out and whether there is anything else you think I should have covered in this article.