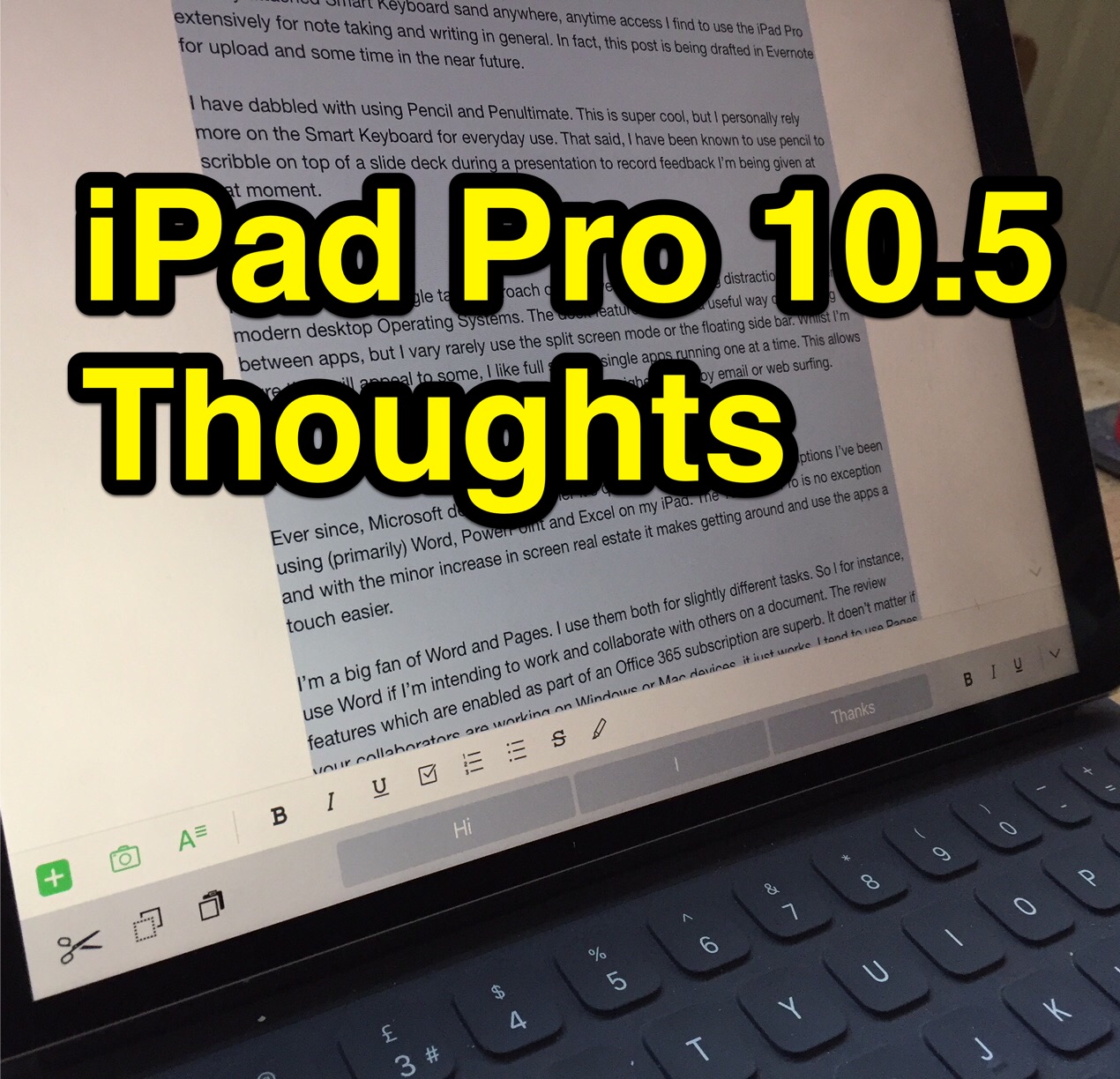 I've been happily using an iPad Pro 10.5 for just over 4 months now. Having purchased it to be delivered on the day of release it has proven to be the best iPad I've owned. As an iPad owner since the first generation, I feel reasonably well qualified to share my iPad Pro 10.5 thoughts…
Used Every Day
It is fair to say that I've used my iPad Pro 10.5 every day (almost without exception) since purchase. Whether this is to watch a movie, keep up to date with my email or to write, the iPad has been a constant companion. I've found the usual high level of Apple design and intuitive way of working I've come to expect over this time. For my money, iOS proves to continue to offer the best tablet experience, and the iPad Pro 10.5 seems to provide a high-end, super fast way of using iOS without having to lug around a massive tablet.
My Setup
When I purchased the iPad Pro, I opted to purchase Pencil and an off brand case. The reason for this was simple, I wanted to do hand written note taking and would connect an Apple Keyboard when I wanted to get down and write more words. I've travelled with this setup including the separate keyboard and found the weight not too much of an issue. Over the last 6 weeks or so, I've been hankering after a Smart Keyboard and so decided to take the plunge and replace my Bluetooth setup for a Smart Keyboard.
I really love the simple way it folds up and makes for an incredibly light and flexible typing companion. My only minor gripe with this setup is, for the price of the keyboard I'd really like a backlight option. Whilst I don't use this feature a great deal, I have had occasion where I've missed the ability to see the keys a little clearer.
So now I have iPad Pro 10.5 (WiFi only) with Apple Pencil and Smart Keyboard. I must say that overall I am very pleased with this arrangement as it provides me with a wealth of flexibility and note taking options – with awesome battery life too.
Apple Pencil
The Apple Pencil proves to be an amazing stylus with super accurate writing and sketching capabilities. I use with Penultimate, so all of my notes and doodles get automatically uploaded to Evernote. I'm not convinced the lightning connector at one end is the most elegant solution to getting battery charge to Pencil, but I've managed to keep hold of the lid and lightning adaptor for charging.
Screen
The iPad Pro 10.5 screen is an absolute delight and one of the key reasons I continue to use iPad for work and entertainment. Colours are extremely well reproduced and all text is crisp as you'd like. I personally cannot fault how amazing it is to look at. A lot of excellent engineering has gone into the screen which sets the gold standard for others to follow.
Note Taking
With my attached Smart Keyboard and anywhere, anytime access I extensively use the iPad Pro extensively for note taking and writing in general. In fact, this post is being drafted in Evernote before being published through WordPress.
I have dabbled with using Pencil and Penultimate. This is super cool, but I rely more on the Smart Keyboard for everyday use. That said, I have been known to use pencil to scribble on top of a slide deck during a presentation to record feedback I'm being given at that moment.
Single Tasking
I tend to prefer the single task approach of iOS over the multi tasking distractions prevalent in modern desktop Operating Systems. The dock feature of iOS is a useful way of switching between apps, but I very rarely use the split screen mode or the floating side bar. Whilst I'm sure they will appeal to some, I like full screen, single apps running one at a time. This allows me to focus on what I'm doing and not get too weighed down by email or web surfing.
Microsoft Office and Apple Works
Ever since, Microsoft decided to further it's quest for more Office 365 subscriptions I've been using (primarily) Word, PowerPoint and Excel on my iPad. The 10.5 iPad Pro is no exception and with the minor increase in screen real estate it makes getting around and use the apps a touch easier.
I'm a big fan of Word and Pages. I use them both for slightly different tasks. So I for instance, use Word if I'm intending to work and collaborate with others on a document. The review features which are enabled as part of an Office 365 subscription are superb. It doen't matter if your collaborators are working on Windows or Mac devices, it just works. I tend to use Pages if I am creating something others are less likely to collaborate on. So for instance, I produce all of my invoices in Pages and export to PDF, sending through Mail from within the app. I find this work flow is neat and from making to sending only takes a few minutes.
I do on occasion use Keynote, especially for quickly creating diagrams. Numbers doesn't really get a look in though as Excel is superior in every way as far as I am concerned.
Mobile Websites
Whilst most web sites and web apps out there have gotten their head around making the iPad experience work, not all have got their act together. I find it terribly frustrating when I try to use a web service and find that the web user experience is poor and there is no real app alternative. I'm not going to name names, but this seems to be more of a problem with the web software intended for business and less an issue with consumer orientated services.
So, if I had a magic wand, I'd ask that more developers at least test the user experience on an iPad and make it clear whether their service is compatible with the mobile browsers of this world… I'm sure folk attempting to use Android as a work tool suffer from many of these frustrations.
Final iPad Pro 10.5 Thoughts
If you are in the market for the latest and greatest iPad, then the iPad Pro 10.5 should feature high on your shopping list. With an increased screen size and smaller bezel the iPad Pro retains the portability of earlier models but with a bigger display. I for one wouldn't be without mine and look forward to using it (and future iterations) for many years to come.
Now I've shared my iPad Pro 10.5 thoughts, how about you share yours by commenting below?