If you are in the market for connecting your iPad to an Apple TV but are in a place without a wireless Internet connection then this article is for you. This is for when  you need to do presentations from you iPad using AirPlay or just play films whilst in a hotel room. As long as you have the content on your iPad and power for your Apple TV you should be good.
iPad with cellular
Unfortunately the following setup will only work if you have an iPad with cellular capabilities (3G) with a SIM card inserted.
Wireless
When I say wireless I mean the kind of wireless you have got used to at home and in work. This type of setup requires hardware that presents a wireless connection so that the Apple TV and iPad use that as a medium to talk to one another. That looks a little bit like this: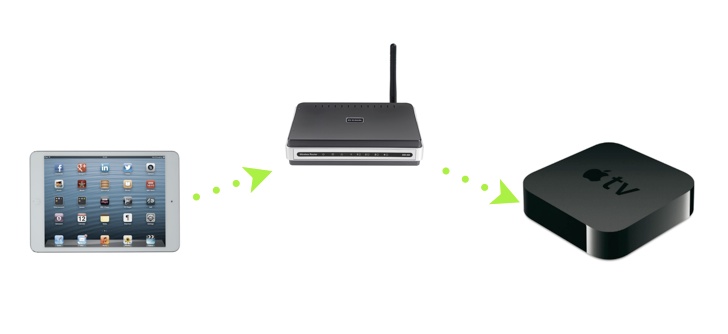 If you take this fixed system out of the loop then rather than replicating it in small boxes your iPad can save the day.
This process does use the wireless capabilities of your iPad but in an unusual way.
Hotspot
By enabling the hotspot feature on your iPad you are creating a connection that the Apple TV. You can then use this to to communicate with the Apple TV over. Do this by going into Settings > Mobile Data > Hotspot. Make a note of, or change the password to enable connection to the hotspot you've just enabled. It's a good idea to make the password straightforward to type as you will use this on your Apple TV.
Connect Apple TV to hotspot
On you Apple TV go into the network settings section found within general and set up a new connection to the hotspot you have created. You'll need to insert the password that you have made a note of.
Test it out
With the Apple TV successfully connected to your hotspot then either enable AirPlay mirroring or stream a film by AirPlay. You should be able to use you iPad now as if you were connected to a separate wireless connection.
Once done
Once you've finished with the hotspot connection it is a good idea to turn it off to conserve battery and avoid other people trying to connect to it.