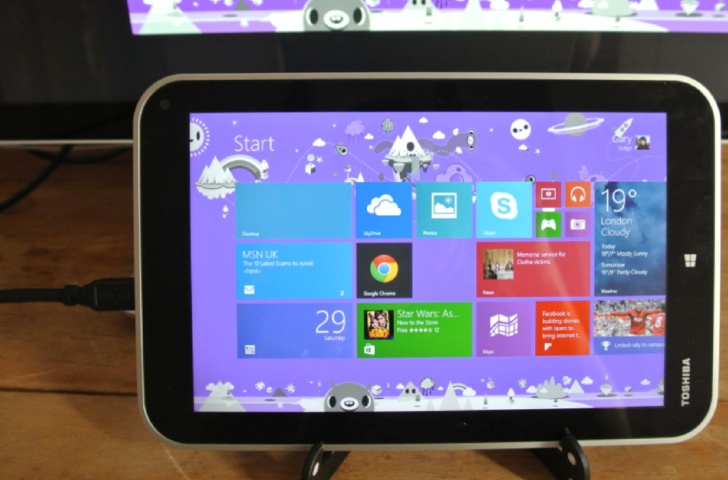 How to Mirror Your Toshiba Encore 8 Screen
Chances are if you have recently purchased a Toshiba Encore 8tablet that when you have tried to mirror your display that it fails with the following error message:
The display settings could not be saved. Please try a different combination of display settings.
Fear not
Well fear not as with the latest Intel Platform driver housed on this page you can now get what's on the Encore 8 onto your external HDMI display. Once downloaded just install on your Encore 8 and carry out a reboot after it's completed. With the driver installed you should be able to mirror your screen without errors – as shown in the image at the top of the page.
This link was provided by readers of the blog – thanks.
If you haven't tried this already then all that you need is an inexpensive Micro HDMI to HDMI [US Link] cable that connects your tablet to the display and then follow this process.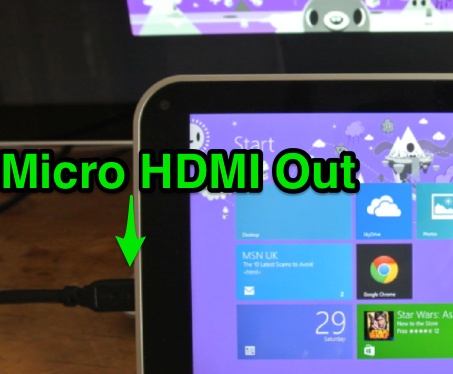 This
Things to be aware of
When you plug in a HDMI display if it is a higher resolution than that of the Toshiba Encore 8 then you may well see a black border. If you cannot change the resolution of your display down to 1280×800 then you will have to put up with the screen not being filled by that of your tablet. This isn't really the fault of Toshiba as this is standard Windows behaviour, so if you want to fill the screen you need to set up an extended display. The downside to this is that without a mouse you cannot control your cursor on the second display.
Given that mirrored display works best on 1280×800 a 720p HD projector or screen would be a perfect match for this little guy.
I find that the micro HDMI port on my Encore 8 is a little bit temperamental. I've tried a number of cables and I have to unplug the cable a couple of times before the connection is established. Once set it tends to stay put but getting going can be a bit of a faff. This may not be the case with every Encore 8 but is something to be aware of.
Still stuck ?
If you are still stuck and can't get your display to duplicate then please let me know as I may be able to help you troubleshoot your problem.