One cable to connect Macbook to VGA display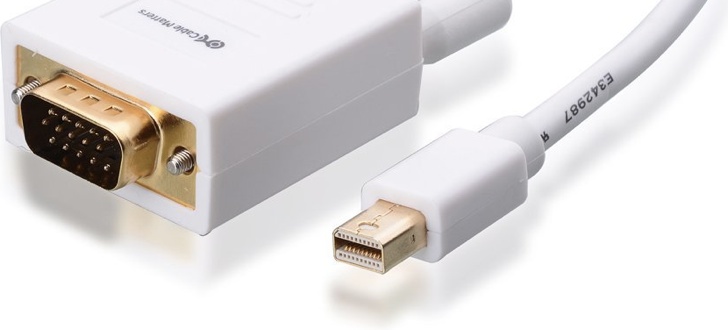 As Mini Display Port technology is becoming used by more than just Apple it appears that the number of good quality connectors are available. I've been struggling with Mini Display Port to HDMI and VGA adapters as I do not like the additional bulk that the add next to my laptop. It is this reason that I went shopping to replace what I had been using with something a little more integrated.
A short trip and browse through the pages of Amazon has lead me to this product [US Link] which has a Mini Display socket on one end and VGA adapter the other. As mentioned earlier I was attracted to the lack of fuss that this introduced to my setup but still enabled me to connect a second screen.
Second Screen
I use my second screen to watch Netflix, keep Spotify visible or to have content open whilst I work. I do not (and never have) found working across two screens the most natural experience in the world. But given that I have a spare display and sometimes am appreciative of the extra screen resolution then it can be useful to have.
Quality matters
I've found the cable matters cable to be provide a great quality image. It is equally as good as my budget VGA adapter and loads better than the budget HDMI adapter I've also got. Whilst the other two are a bit cheaper I'm so far very pleased with the all in one cable as it helps me keep the desk clutter to a minimum and my workspace a pleasant place to be.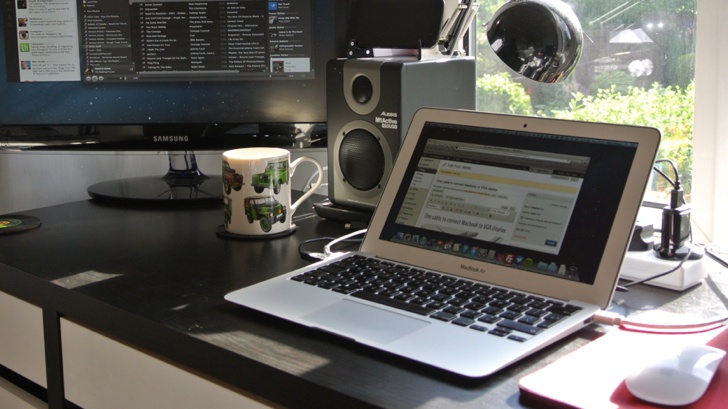 When you spend so much time working in your space then these things do matter. And whilst I'll never have the tidiest / neatest desk I do like to try and keep some kind of control over my work environment. This cable helps contribute to this and may also make your setup a little neater too.