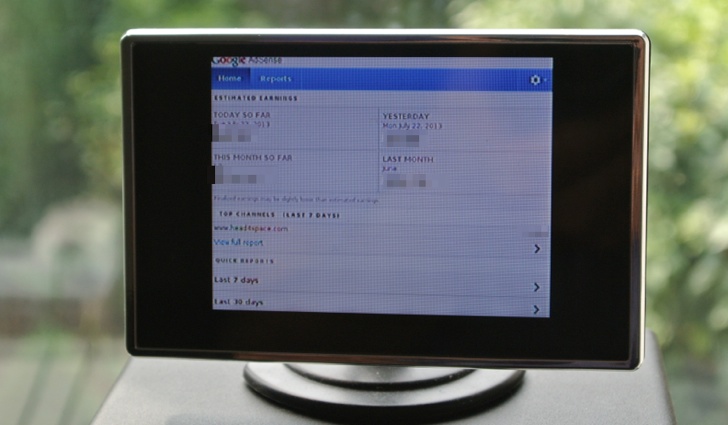 The Raspberry Pi is an incredibly versatile little guy and perfect as a low powered (as in energy consumption) way of keeping tabs on things. I'm a sucker for keeping an eye on my Adsense performance and find myself constantly opening a browser window just to see if there has been any movement. If you are a bit like me you might want to try this little project to make yourself a low cost dashboard to monitor Adsense performance.
Screenly
First up you need to get a Raspberry Pi with an operating system and install Screenly onto it. Screenly is open source digital signage software which allows you to schedule digital assets and show web pages. There are a few tutorials how to do all this stuff. These are the ones that I've followed:
Right with that stuff out the way lets move on to making it into a dashboard – make sure that you have a keyboard plugged in as you'll need it later…
Schedule
Once you've booted your Raspberry Pi into Screenly you need to go to another computer and access the Screenly web front end. You do this by typing http://:8080 into your web browser.
You will be prompted with a screen that allows you now to manage assets on the device. It looks like the image below: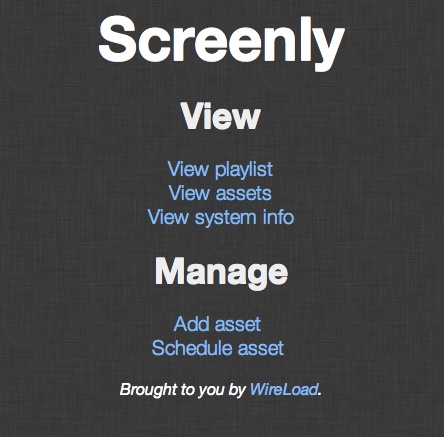 You now need to Add Asset. Once you've clicked Add Asset, give the asset a title 'Adsense' is a good idea, supply the URL:
https://www.google.com/adsense/m/
I'm using the mobile URL as the display I'm using is 640×480 and not suitable for the full web page.
Now select Webpage from the drop down: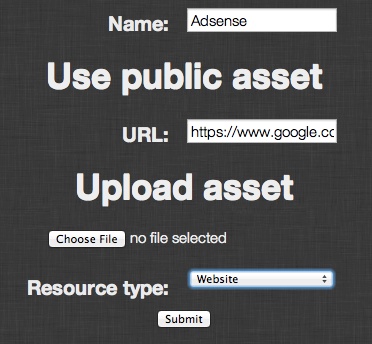 Then click Submit.
Next Schedule the Asset by clicking the schedule asset link.
Here you need to pick Adsense, specify when it will run (the defaults should be fine) and how long it will run for. I've set mine to run for 900 seconds. This is 15 minutes and you probably don't want it polling too often as Google may have something to say about that.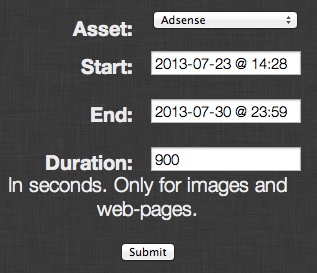 With that done you need to add another asset to act as a refresh screen.
Add an image asset and schedule it to run for 1 second so that every 15 minutes an image pops up and forces the webpage to reload.
Check that your Playlist has the two assets setup:

With that done if you look at the Raspberry Pi you'll notice that it is most likely stuck on the Google Login. Type in your username and password making sure that the remember me box is ticked.
With that done you should now have a fully functioning Raspberry Pi Adsense Dashboard.
Next
You could use this process to monitor regularly access websites on a rolling schedule, so if you want to have a look at your realtime Google Analytics then this should work a treat.
If you have any great ideas about how this could be used further or if you get stuck along the way then please comment below.