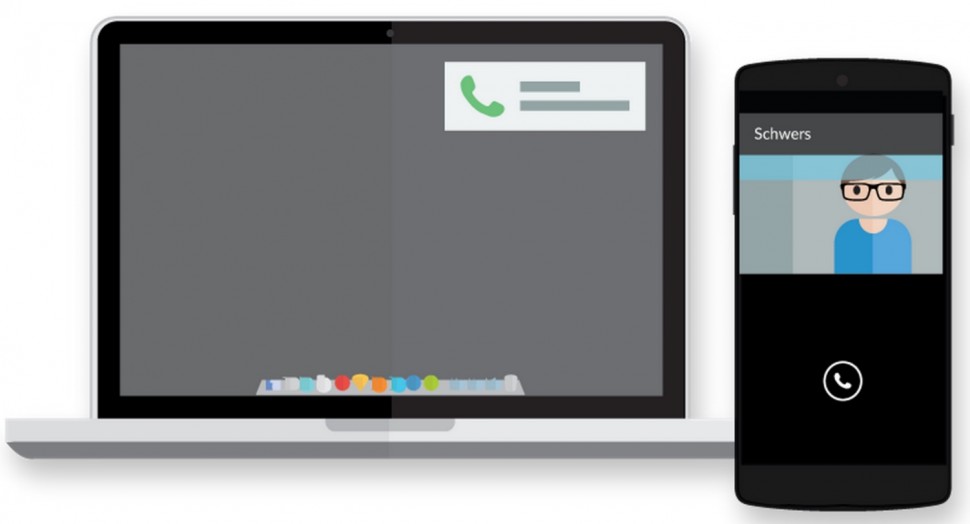 Please note, this topic has been revisited more recently in this post.
How would you like to send and receive SMS text messages from your Chromebook? Interested? Read on.
Short Message Service (SMS) or text messages have been around since the dawn of mobile phones. To this day, they are still king for brief text-based conversations.
Now, thanks to a clever piece of software called 'Pushbullet,' it is possible to send new messages from your Chromebook AND read and reply to incoming messages on behalf of your phone. How cool is that? After all, typing messages is much easier on a full sized keyboard.
The best part is, it's simple to set up and use, and all the software required is free.
On your Android or iOS smartphone
Head to your device's app store and download and install the Pushbullet app.
Here are the direct links:
Android: https://play.google.com/store/apps/details?id=com.pushbullet.android
iOS: https://itunes.apple.com/gb/app/pushbullet/id810352052?mt=8 (unfortunately iMessage does not allow you to send text messages from another device due to the security model employed by Apple…)
Open the app and choose between Google or Facebook as the sign in method.
Depending on which method you choose, you'll then be taken to an authentication page. You may then need to sign into your Google or Facebook account. When signed in, you'll then be presented with the permissions Pushbullet needs to operate. Make sure you're comfortable with these and if so, tap to accept them. This authentication is one time only. Don't worry; you can revoke these by going into your Google or Facebook account's security settings.
Now it's time to go set up Pushbullet on your Chromebook.
On your Chromebook
Head to the Chrome Store and download and install the Pushbullet app.
Here's the direct link: http://chrome.google.com/webstore/detail/pushbullet/chlffgpmiacpedhhbkiomidkjlcfhogd?utm
Click on 'ADD TO CHROME':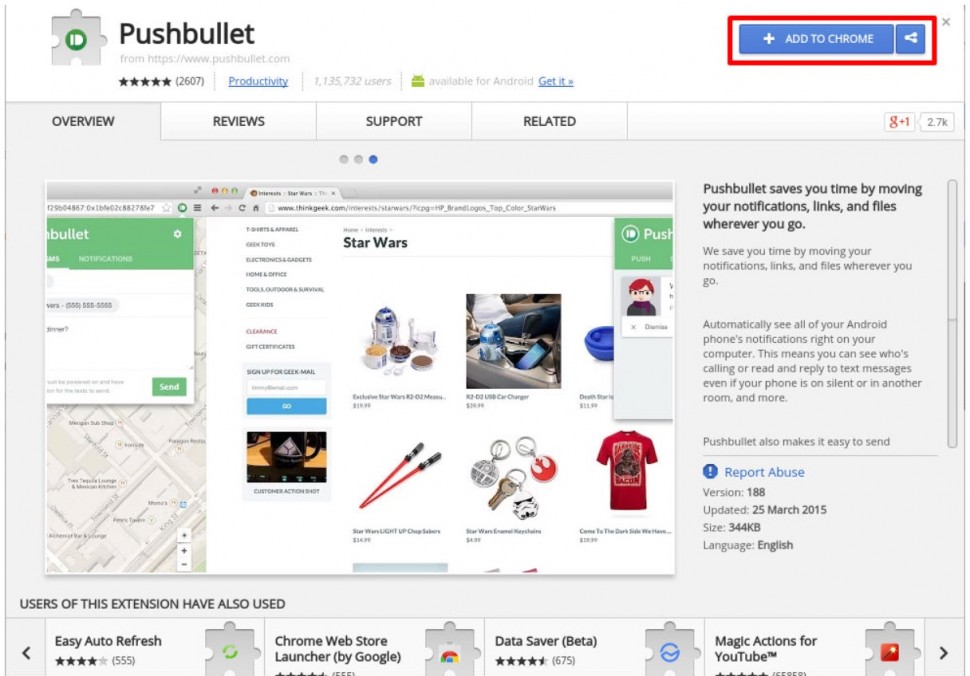 Then click 'add' to confirm the new extension: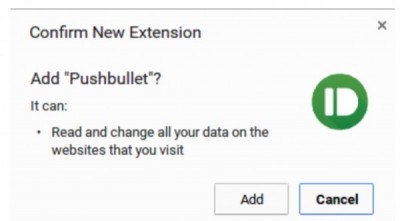 When you've installed the extension, you'll need to sign into it.
Click on the new Pushbullet icon that's just appeared in the extension field, next to the 'hotdog' menu in Chrome:

Then click on 'Sign up on Pushbullet.com':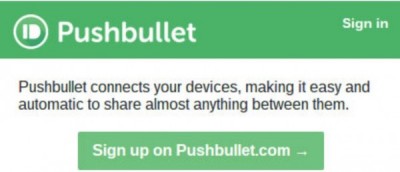 Next, click on the Google or Facebook button, depending on which account you want to use to authenticate with Pushbullet. Naturally, you'll need to use the same authentication method as on your phone/tablet.
You will then be asked to accept the permissions that Pushbullet needs to your Google or Facebook account in order to work. If you are happy with these, click 'Accept'.
That's it. You've now installed everything you need for Pushbullet to work.
Let the games begin
Now the fun part. It's time to see Pushbullet in action.
We're going to try two things:
Sending a new text message
Reading an incoming text message and replying to it
For both, you can either enlist the help of a friend or just send messages to yourself.
Sending a text message on your Chromebook
With Chrome open, click on the Pushbullet icon, top right

and click to focus 'SMS'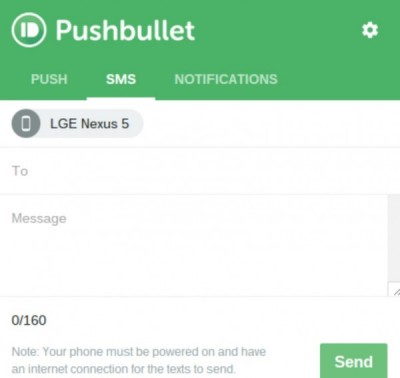 You'll notice your device appears as the 'from' address.
Click on the 'To' field. A dropdown will appear with contacts from your phone's address book.
Scroll to select an existing number or just type the number out in full.
Done? Click 'Send' to send your message on its way.
NOTE: Your sent message will also appear in your phone's Google Hangouts app (or chosen default SMS app.)
Reading and replying on your Chromebook
Now it's time to get a friend to send you a text message. If everyone's busy, just send yourself one instead.
When your phone has received the message, within seconds, you'll see a Pushbullet popup notification on your Chromebook (bottom right) like this: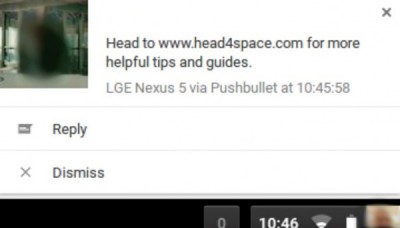 See the 'Reply' button? Click it to bring up the Quick-Reply box: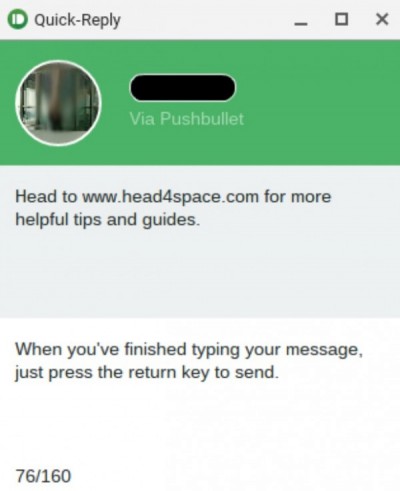 Type your message and then press the Return key to send (there is no send button to click).
Last step – make sure the recipient got your message.
Less distraction
As you can see, you can read and reply to an incoming text message with minimum distraction. There's no need to divert your attention away from your desktop and possibly become side-tracked. If a reply is appropriate, it'll take a fraction of the time to type it compared to typing on a virtual keyboard. Pushbullet is an efficient time saver; I'm sure you'll agree.
And there's more…
While this article's main focus is on text messages from Chromebook, Pushbullet is capable of so much more. What else? Well, you can read/reply to your incoming Whatsapp, Gmail, Twitter, Facebook notifications…
In fact, Pushbullet will notify you on your Chromebook of just about anything that pops up as a notification on your phone. If that sounds too much; Don't worry because it's possible to turn off app notifications on an individual basis. This is particularly useful for those system events or apps that you'd rather not see.
Push it
Another very cool feature is the ability to push all sorts of data from one Pushbullet connected device to another.
What do I mean? Well, let's imagine you have three separate devices.
Each has Pushbullet installed. Now let's say you want to send a note, hyperlink or a file from your Chromebook to your phone. Easy. Just click on the Pushbullet icon next to the hotdog menu and then click to focus 'Push':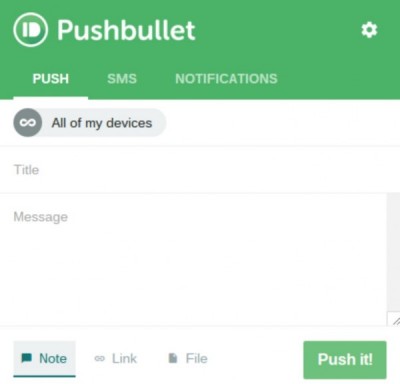 Now click on 'All of my devices' and change this to just your phone.
See the three tabs at the bottom there – Note, Link, File? Just select and complete which one is appropriate for your task. Then, click 'Push it!'. From Chrome to your phone in an instant.
This method is much easier than having to email it to yourself or mess around transferring something via a USB stick or a Bluetooth connection.
Over to you
Pushbullet is a very powerful tool and just like your ChromeOS, it'll only get better with age. The best thing you can do is experiment with it to see how it works best for you.
How do you like to use Pushbullet? Let us know below.