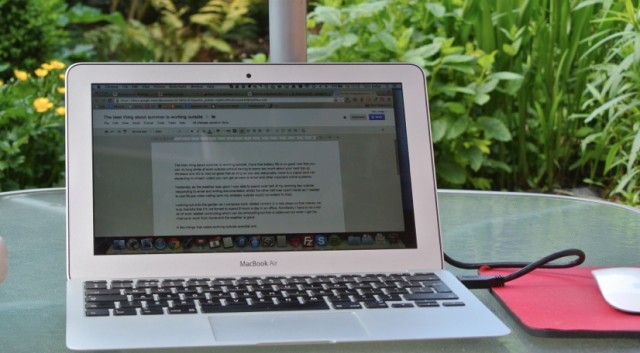 The best thing about summer is working outside. I love that battery life is so good now that you can do long stints of work outside without having to worry too much about your next top up. Wireless and 3G is now so good that as long as you are reasonably close to a signal (and not expecting to stream video) you can get access to email and other important online systems.
Yesterday as the weather was good I was able to spend over half of my working day outside responding to email and writing documentation whilst the other half was spent inside as I needed to use Skype video calling (and my wireless outside would not extend to that).
Looking out onto the garden as I compose work related content is a real pleasure that makes me truly thankful that I'm not forced to spend 8 hours a day in an office. Admittedly I have to do a fair bit of work related commuting which can be exhausting but this is balanced out when I get the chance to work from home and the weather is good.
A few things that make working outside possible are:
Laptop with decent battery life
Good internet connection
Shade to enable me to see my laptop screen (and not get sunburn)
Mobile phone
Being as I am not at work today (well it is Saturday after all) I am once again sat in my garden with a lovely cup of tea writing this post on my laptop. I need to get a few bits and bobs done today but these will be enjoyed far more as the weather is faring well.