Toshiba Encore 8 First Impressions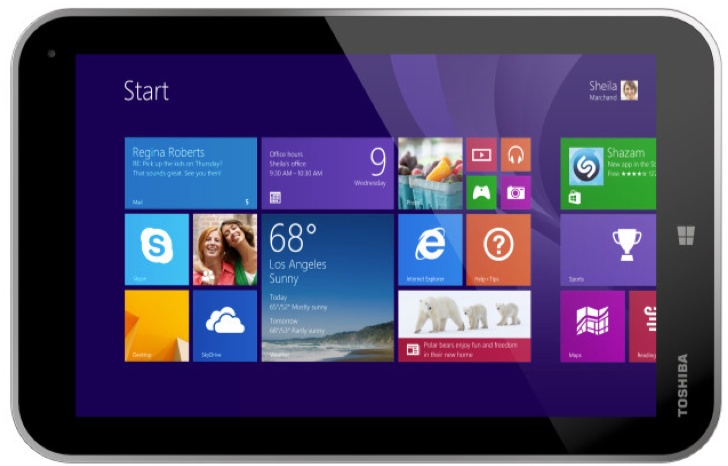 I've now been using a Toshiba Encore 8 for around a week and thought that I'd share my first impressions. Overall it is a great value for money tablet with some issues that appear to be partly an issue with the device itself and some that are as a result of Windows 8.1.
Hardware
I actually quite like the hardware. The Encore 8 is no frills tablet device with a good bright (if no particularly high resolution) display. It's bigger than the iPad Mini and is a lot deeper. Considering that there is a whole PC crammed into this case I'm quite impressed. There is a little bit of flex if you prod at the screen a bit hard but otherwise everything seems to be well made. Because it is a bit bigger I feel as though this might withstand a fall better than the iPad Mini but this is a gut feeling rather than anything scientific.
I sometimes found that my presses weren't being recognised and the touch response doesn't fell as fast as the iPad Mini. This is something I felt to be the case with the original Nexus 7 and again was more of an impression that having concrete evidence.
Windows 8.1 on an 8 inch screen
So Windows 8.1 perhaps isn't the finished article when being used with smaller tablets. The OS often drops you into the desktop mode which requires you to be very accurate when navigating around. The upside is that you can use desktop applications on the go as long as you can put up with the navigation. I'd probably get a bit frustrated if this was my only tablet and have been eyeing up the Asus Transformer T100 as the additional screen real estate should make it easier to get around.
Micro HDMI Port
One of the main reasons I picked this tablet is for the Micro HDMI Port. What I wanted to be able to do is try and plug in a display to watch a film. What I've since found is that it is nearly impossible if you just have the touchscreen to navigate.
When you plug in a HDMI display the screen eventually appears as an extended desktop. Unfortunately there doesn't appear to be any way to mirror the desktops. So as a consequence the only way I could move content over to the second display is to use a mouse.
Micro USB Port
Being able to hook up a keyboard and mouse through the Micro USB port is useful but this also doubles as the charger socket. I tried using a powered USB hub to charge the device whilst using keyboard and mouse but didn't get much joy. I'll probably return to this in the future though.
Micro SD
As you are only supplied with 32gb of internal storage, which leave around 11gb of free space I'd recommend that purchase a 64gb Micro SD card to go with the Encore 8. You can pick one up for around £40 and means that you can sync SkyDrive there and have a bunch of media files with you too.
Bluetooth Keyboard
I also tried a Bluetooth keyboard connected to the Encore 8 but found that every now and then a letter would stick. So instead of writing hello I'd end up with helllllllllllllllo. This is particularly annoying if you are trying to write anything longer than an email. I've been in touch with Toshiba support about this and they have recommended reinstalling the device driver. Something I've not gotten around to but will spend more time on as this could be a real problem for me.
Encore 8 as a desktop
With a large screen plugged in and keyboard and mouse attached the Encore 8 does a passable job as a desktop machine. Whilst this isn't for using photoshop, everyday productivity applications such as Word and Excel work well (and are provided free of charge). This is my only dedicated Windows machine that I use as I predominately rely on a Mac. I'm not comparing the two experiences directly but I think for the money the Encore 8 performs well – it's pretty quick and doesn't suffer from too much slow down.
Is it for you?
Windows 8.1 tablets are an interesting breed. For me the main attraction with the Encore 8 is the low price and is a full Windows client. Throw in Office and it is a bit of a bargain. I do not think that this is the tablet for the masses – iPad and Nexus devices are much more suitable companion devices. But if you are in the market for something that will give you great battery life, a small form factor and runs applications locally then this little fella might be right for you.