Microsoft Word on a Chromebook User Experience
Now that Microsoft has Office apps are available on all Chromebooks, this article covers the Word on a Chromebook User Experience. For many, Word is a key tool required to be productive. Whilst there is always the option to use a Windows device, being able to use a Chromebook is the preferred choice for many.
If you haven't done so already, have a look at this article which walks through the process of getting started Word on a Chromebook.
Office 365 Subscription
Once you are up and running with Word on your Chromebook, you will need to determine whether you need an Office 365 subscription… In most cases, I believe the answer is 'yes' – especially if you are intending to use Word regularly.
You see, if your device has a screen which exceeds 10", you'll need a subscription to be able to create and edit content. For devices with smaller screens (such as the dinky original Chromebook Flip) an Office 365 subscription provides you with access to advanced features. This includes tracked changes, commenting and reviewing.
Slick and Simple
Being as Word on a Chromebook uses the Android app, the interface is slick and touch enabled. Gone are the hundreds of confusing options, replaced with fewer features in the following tool bars:
Home

Insert

Draw

Layout

Review

View

If you are familiar with Word, you'll notice this is a reduced set of features. Unless you are in need of complex layout and editing functionality these are the kind of features that get used day in, day out by the vast majority of users.
In use, I've found this and the iPad version of Word with an office 365 subscription meets my needs. I cannot think of an occasion where I'm looking for some feature or other which is missing – YMMV.
Speed and Reliability
Using Word on my 2015 Chromebook Flip I am pleased with the responsive nature of the app. The mobile interface allows me to not get bogged down with too many features. It's also been rock solid. This is especially interesting when you consider I am using a light weight, low spec Chromebook with only 2GB of RAM. If you are using anything remotely more upscale then you can expect a great experience.
The one area I've noticed the occasional slow down is when downloading and opening files from OneDrive. This has little to do with the performance of the app and more to do with the Wifi components in the Flip. Unlike all of my other devices, the Flip struggles to get a good Wifi signal when I'm not in the same room as the router.
Working Offline
Once you get passed the ability to work with the tools, you'll most likely want to understand is how to work offline. Word works offline and is easy to get on with creating something new. Where things get a little more complex is if you want to open and save files offline.
Consider for one moment that Word is an Android App which works on top of Chrome OS. Currently, the file systems (i.e. where you store your documents) between the Android elements and Chrome OS are not fully integrated. This means that if you save your file offline within Word, you may not be able to easily find it within Chrome OS.
So to save files locally within Word, you need to browse to 'This Device' and then 'Documents':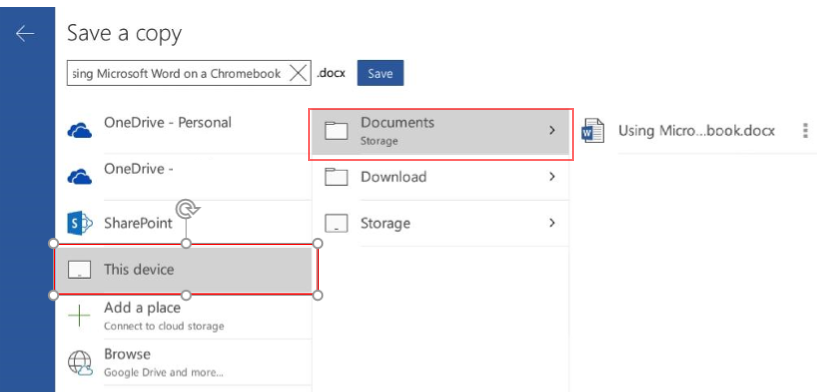 No matter how hard I try and get access to the Android storage section from within Chrome OS Files I cannot. I may be missing something – if so, please add a comment as I'd love to know where I'm going wrong.
The good new is, you can find it within Word and when you are back online you can copy the offline file into OneDrive. Also, whilst the Android to Chrome OS integration needs some work, Android app to Android app file storage works like a charm.
This therefore opens up the possibility of using a File Manager to get access to these files when outside of Word.
Using A File Manager
The Play Store is full of Android file managers which allow you to get access to the files you have stored offline. I have been experimenting with 'Simple File Manager' as it doesn't require payment or have ads. It's pretty basic, but opens up organising files and folders offline which we've come to expect from desktop software. Sure, it's a bit of a hack and I'm convinced Google or Microsoft will come up with a far more elegant solution in time, but it's a decent enough work around for now.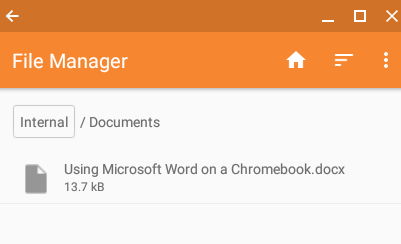 OneDrive
Unfortunately the OneDrive offline feature does not work at the moment. When I try this I constantly get the message 'Waiting' for the file I'm attempting to store offline: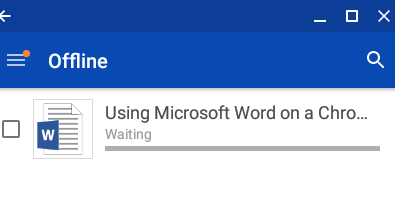 Keeping Up To Date With Improvements
Microsoft keep a track of improvements they are making to the Office suite. This includes the Android App. To keep up with the updates, head on over to the following URL:
https://support.office.com/en-us/article/What-s-new-in-Office-365-95c8d81d-08ba-42c1-914f-bca4603e1426?ui=en-US&rs=en-US&ad=US#Platform=Android
Summary
In summary Word for Chromebook is a capable and robust alternative to the Mac or Windows versions. However to get the most from the tools, you'll need an Office 365 subscription. Also, working offline might need some thought.
How do you find the Word on a Chromebook user experience? Is there something key which I've missed out in this article? If so, please comment below and let you know your thoughts.