So here are my first thoughts about the ZaggKeys Folio iPad keyboard case. I've been using it a little bit now (about a week and a half) and have grown accustomed to it.
Even before you start using the ZaggKeys Folio you will no doubt be aware of the cost. £90 for a keyboard case is quite a lot of money, especially when there are cheaper alternatives out there. My first thoughts are that you are paying for a quality item and given that there aren't many great keyboard cases then being on top of the pile does often mean paying a premium.
Keyboard
The keyboard is well laid out and lends itself to well to a comfortable typing experience. The keys themselves are of the island variety so you can feel the gaps between each one. The 'enter' key is a little smaller than I'd perhaps like which has meant that I have ended up with a few 'backslash' characters rather than a new line. So far this is my only real gripe as the overall typing experience is a pleasant one.
Given that this case will primarily be used as a keyboard it's worth lingering on this thought for one moment. I've used other keyboard cases and couldn't get on with them because the keys were too small and they felt all wrong. I've therefore tended to carry a separate bluetooth keyboard in my bag for when I need to do more writing. I think that this experience is at least on par with the keyboard I've been used to and given the size and weight of the ZaggKeys Folio will probably end up being my case of choice.
When compared against the MacBook Air 11″ keyboard there is a slight difference in key size. The keys on the ZaggKeys Folio (by my reckoning) measure 14mm wide whereas the keys on the MacBook are are between 15mm and 16mm. On paper that is not a big difference but in practise it is noticed. If you are used to a Mac keyboard then the transition will be apparent but you quickly get accustomed.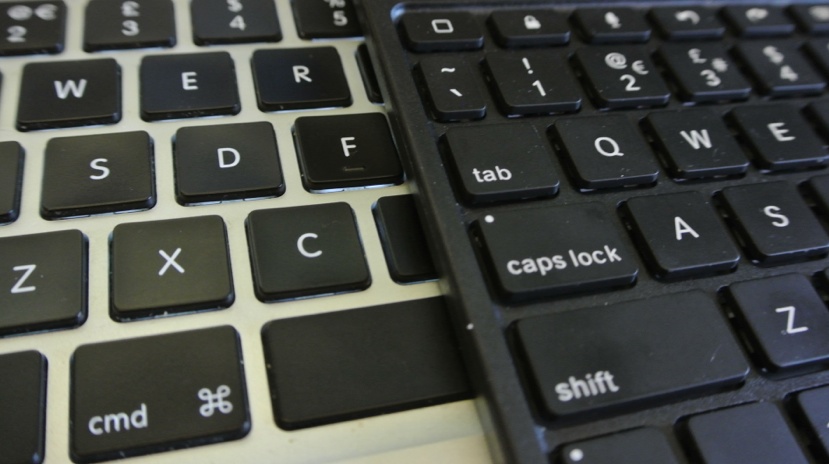 The keys can also be backlit, which sounded like a gimmick to me but in use helps with the definition of the keys against the same colour background. On my MacBook Air i have the backlight on the keyboard switched off to conserve battery life and the silver background is all I need to be able to see where the keys are. On the ZaggKeys Folio however I find that the backlight on the lowest setting helps me 'see where I am going'.
Battery life
Battery life is reported to be 3 months of use based upon 2 hours of daily use. By my reckoning that means that the Zagg Keys Folio should be able to do 180 hours straight of use. This is pretty impressive given how svelte and light the keyboard case is. I have no intention of testing out this claim but would expect that if it was clearly false that others would have complained.
In and Out
One thing I was keen to understand before buying the ZaggKeys Folio was how easy it would be to get the iPad into it and out again. To get it in you insert the bottom first and then press the iPad into place. Theres a light click when fully seated as the plastics above your iPad hold it in place.
To get your iPad out of the ZaggKeys Folio you have to unclip the top first, which takes a little bit of effort. I'm sure that this gets easier with practise and is something that Zagg have tested to make sure that the case stands up to the iPad being put in and taken out regularly.
For me this is pretty important as I like to use my iPad as a tablet as much as I want to use a keyboard with it. So this element will be getting tested heavily over the next few months and if I have any issues I will let you know.
Overall
My overall impression is good. The device is well thought out and typing experience is as good as you can expect for a keyboard this size. The case build quality is great and feels like it will stand up to a lot of use. The case protects your iPad and holds it like a laptop, which was one of the main selling points for me. In this respect it delivers on the promise and provides a good addition in a compact and neat case. I'd recommend this keyboard case for those that feel they absolutely must turn their iPad into a mini laptop and an put up with the minor compromise of slightly smaller keys than on a regular laptop keyboard. For others I'd suggest you consider flinging a seperate bluetooth keyboard in a bag.