It has to be when rather than if Apple will announce touch screen Mac computers… They practically reinvented touch screen computing with the iPhone and iPad and now are starting to see rivals Microsoft and Google produce traditional operating systems which are touch capable.
Apple at the front
iOS has been at the Vanguard of touch screen operation for a few years, in which time others have been able to develop their own versions of touch based operating systems. With others taking the lead (for now) it is really down to Apple to up the ante and demonstrate how well they understand their customer base. They also need to set out their stall and show how they expect Mac devices to evolve over the next few years. Whilst iOS devices are true feats of industrial engineering and design there is no place for complacency. Microsoft & Google will surely be keen to nip in and steal Apples crown given half the chance.
What about decapitation?
If Apple were to announce a touch screen Mac then it would still leave plenty of room for the less expensive iPad to continue and dominate the tablet world. iOS and OSX have been converging for some time now and key examples of where OSX has been influenced by iOS is the Launcher and Notifications. There are many features of Mountain Lion which appear to have been designed with touch in mind. Trackpad gestures that we've come to know and love would be easy to translate onto a mutli-touch display. They've perfected many of the ingredients under the hood all that it needs now is compatible hardware and a few tweaks.
Apple need to be ready to decapitate its own market before others do.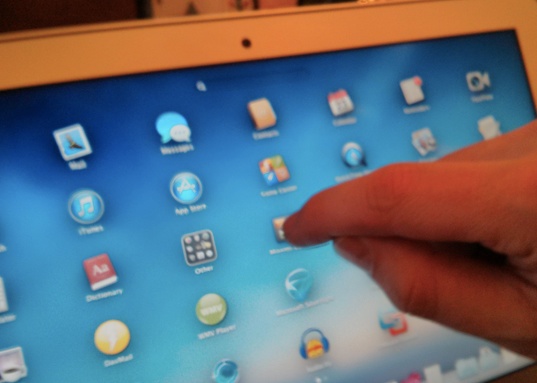 What is everyone else doing?
Microsoft have proven that the concept works with Windows 8 and although it is a little rough around the edges it still is a good innovation. Apple have historically been known for taking proven technologies and refining them to a level consistent with the Apple eco-system. And now that Google have announced the Pixel with its high resolution touch screen display – a definite MacBook Pro competitor if there ever was one.
I for one look forward with anticipation to see how Apple will bring the touch screen experience to life as they tend to think long and hard about how to make it intuitive. This will in turn be great for Microsoft and Google as they can learn from the fine level of finesse that Apple bring to OSX. In turn expect better products from these American giants.
The future for touch computers looks bright as the competition for market share takes hold.