Connecting your Nexus 7 [UK Link] to a HDMI Screen or projector couldn't be simpler. With a SlimPort adapter [UK Link] that plugs into the socket at the bottom of your tablet you can share content from your device with others. This takes away the need for streaming over Chromecast as will be particularly useful in situations where you do not have wireless access. When connected up it looks like this: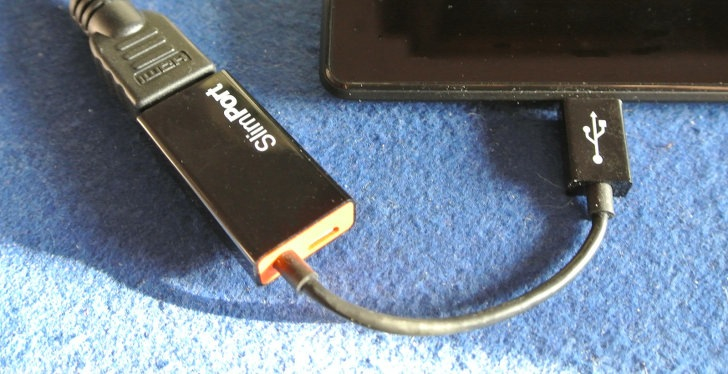 Audio
Because the SlimPort adapter connects to a HDMI cable this neatly handles audio as well as video. So you can enjoy watching a film on the big screen without having to hook up any further cables.
Charging
There is Micro USB port on the SlimPort adapter that enables you to charge your tablet whilst in use. This is pretty important as your tablet screen will remain on all the time you are displaying content from your Nexus 7 – which can drain the battery.
Nexus 7 2013
This solution only works with the 2013 / second generation Nexus 7. If you have the first generation then you cannot use this method as video output isn't supported. In that instance you should try Chromecast and supported apps instead.