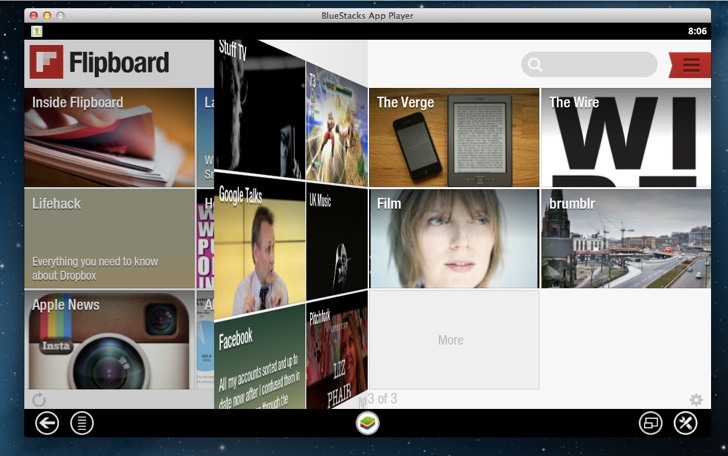 If you ever wanted to install Flipboard on your Mac or PC then now you can. All you need to do is head over to Bluestacks and install their app player on your computer. This will provide you with an Android based environment for installing the magazine app into. Everything that you can do on your phone with Flipboard is available on your computer in this way and opens up a great way of consuming media.
[UPDATE] Mac users seem to have been left behind, but you can still get a copy of the beta software here.
I've always loved Flipboard and ever since I first used it on my iPhone it has become my go to RSS reader. Once you have Google Reader set up within it you can get access to all of you many and varied RSS feeds with the minimum of fuss and beautifully rendered. Being as Google Reader is now no more then there isn't a better time to use Flipboard as an alternative.
It's always been of a disappointment that Flipboard never made its way in one shape or another onto traditional computers. Sure you'd have to rethink the lovely page transition but that would be a small price to pay to have a brilliant free magazine app style news reader.
Install with an App Player
It is now possible for the first time to install Flipboard on a Mac [UK Link] or PC [UK Link] with the app player. The transition between pages feels a little odd with a regular mouse but if you are using an Apple Magic Mouse [UK Link] or Magic Trackpad [UK Link] then you can swipe between pages – which feels better. As soon as you plug in your Flipboard account details then you can easily access the Flipboard feeds and magazines that you might have set up on a mobile device. In short you get the full magazine app experience without having to pay a dime.
I've recorded two short screen captured videos and uploaded them to YouTube showing you how easy it is to get the magazine app going…
Mac OSX:

Windows 8:

[UPDATE] Since writing this article, Flipboard have released an app for Windows 8. The process described in the video still is valid (and relevant for Windows 7) but is no longer the only way of getting Flipboard on a Windows 8 computer.
You can install other Android Apps into Bluestacks and even get access to content held within a Google Play account – if you have one. One thing I did notice however is that trying to stream a movie from Google Play seemed to be a little bit too much for it. Games on the other hand work really well, so if you want to play fruit ninja or clash of clans then it's worth having a look.
If you haven't done so already head over to Bluestacks and download this cracking little application and see what fun that can be had with it. If you want to learn more then have a look at Instant BlueStacks.
Chromebook
Want to get this to run on a Chromebook, well I've got you covered. Have a look at this recently published article for more info.